Alienware x17 R2 Review : It's Big, It's Powerful And It Has 100% Gaming DNA | Tech Reviews
To speak of Alienware is to refer without a doubt to one of the benchmarks in the world of gaming equipment . And if we focus on the world of laptops, we are dealing with computers that have been and continue to be absolute examples.
The new Alienware x17 R2 is an evolution of the previous generation where the internal tuning must be highlighted until reaching a high-end configuration based on the latest generation Intel Core i9 and the Nvidia RTX 3080 Ti GPU . The result, as expected, does not disappoint in terms of performance or design, but at a cost that must be assumed.
Alienware x17 R2 Data Sheet
SCREEN
17.3-inch IPS-LCD
RESOLUTION
FullHD a 360 Hz
MICROPROCESSOR
Intel Core i7-12700H
GPU
NVIDIA GeForce RTX 3080Ti 16GB GDDR6 (175W)
PRINCIPAL MEMORY
32 GB DDR5-4800
STORAGE
1 TB TB SSD M.2 NVMe
CONNECTIVITY
2 USB 3.2 Gen 1 ports with with PowerShare
1 USB 3.2 Gen 2 port Type-C with DisplayPort and Power
Delivery 1 Thunderbolt 4 Port with Power Delivery 1
Universal Audio Jack
1 HDMI 2.1 Port
1 Mini DisplayPort™ 1.4
1 RJ45 Ethernet Port
1 Power Adapter Port1 microSD card slot
WIRELESS CONNECTIVITY
Wi-Fi 6e (802.11ax) y Bluetooth 5.2
SOUND AND WEBCAM
4 speakers with Dolby Atmos

Webcam 720p con Windows Hello

BATTERY
87Wh (330W adapter)
OPERATING SYSTEM
Windows 11
WEIGHT AND THICKNESS
3.2 kg y 20.1 mm
PRICE
From 2148 euros
It's not small, but what a design!
The design of gaming laptops ceased to be something standard years ago. There are teams that proclaim to the rooftops that they are models to play, others that opt ​​for a more discreet appearance and some even completely hide their gaming DNA.
The commitment to thinness does not detract one iota from the 100% gaming appearance that the Alienware brand carries in its DNA.
The Alienware x17 R2 , saving the very personal tastes and preferences that we always find at the design level, belongs to the first category. Looking at it, no one will say that it is not a gaming laptop . But neither is it an extravagant design.
The Alienware X17 R2 achieves it with a unique aesthetic that is already associated with the brand itself and of course with an exquisite finish ( magnesium and aluminum alloy ) that takes care of all the details. That is why it has been especially attractive to us, since, for example, due to dimensions it is not among the best on the market at all.
The X series is now a family of gaming laptops where the thinness of the equipment stands out (2 cm) and risky choices such as moving all the connections to the back (except power and headphone port). On a practical level, this makes it more of a desktop than a laptop, weighing, by the way, 3.2 kg for the 17-inch version that we have analyzed.
Betting on the Alienware X17 R2 is not doing it for a small team but for a very different one with a lot of personality.
On an aesthetic level there are many details that give it a great personality . From the brand logo on the back (with LED lighting) to the same logo configured as a power button already inside, going through the white tone of the casing that contrasts with the already black interior.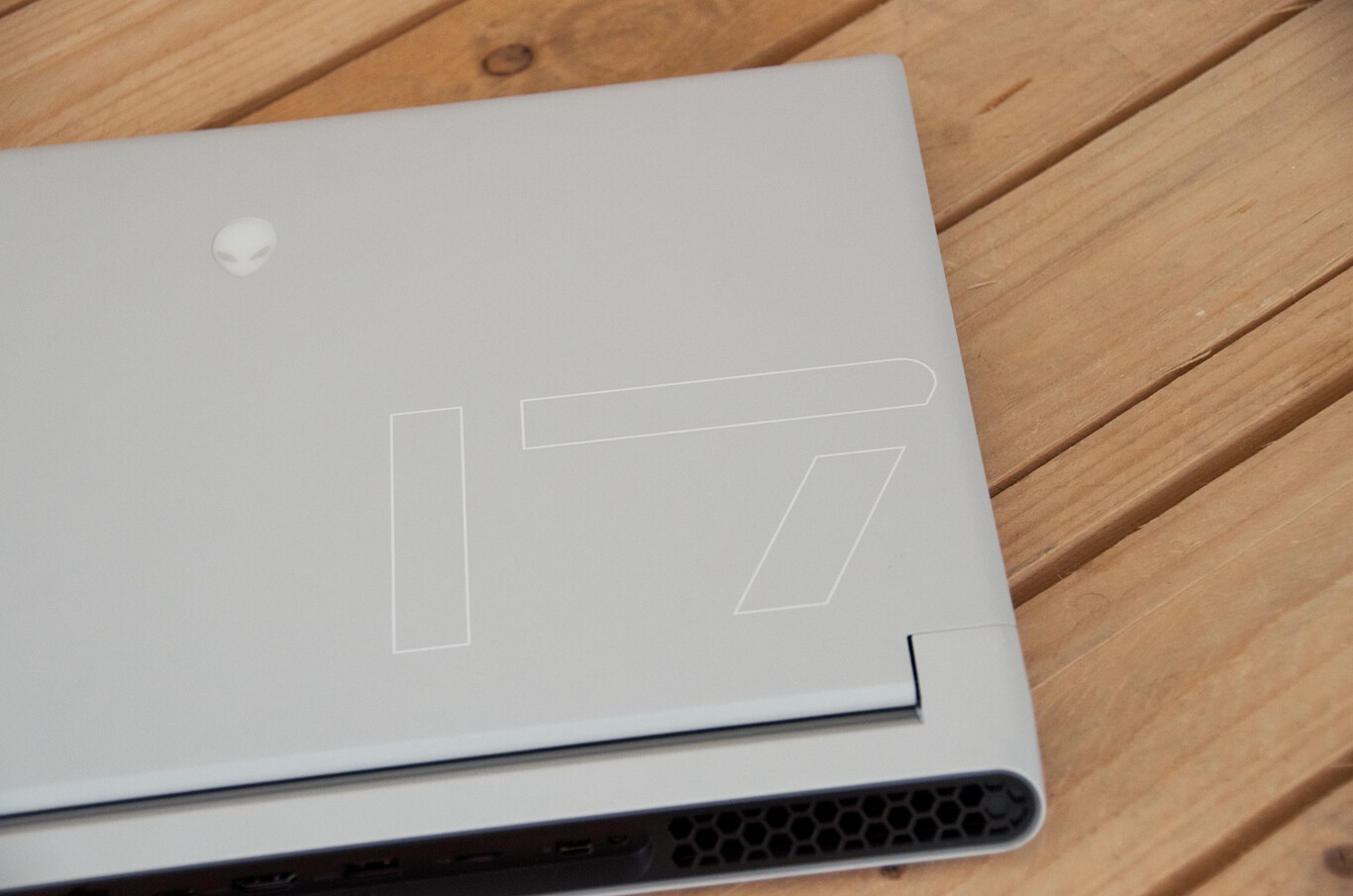 We also have the obvious cooling outlets, on both sides of the case and also on the back flanking the central area that, as we have indicated, is reserved for the main connectivity (and whose entire piece has a synchronizable LED lighting ring).
There we find two USB-C ports (one Thunderbolt 4/USB 3.2 gen 2, with power delivery), two USB-A 3.2 Gen1 with PowerShare, an HDMI 2.1 port, a Mini DisplayPort 1.4 output and an RJ port -45 Killer Ethernet E3100 2.5G. A microSD slot is also included.
As for wireless connectivity, we have Wifi 6E and Bluetooth 5.2, in addition to a 720p webcam that, without standing out in general quality, at least supports using Windows Hello to identify us biometrically. This was essential given that we do not have a fingerprint reader on the device.
Lots of screen and refreshment but low resolution
As in other families of gaming laptops, the consumer has several different configurations to choose from at the screen level.
In our case, the analyzed model has a 17.3-inch IPS panel with FullHD resolution and 360 Hz refresh rate (there is the option of choosing a UHD resolution but with less refresh rate). In both cases we are talking about a non-touch panel with Advanced Optimus technology and Nvidia G-Sync . Regarding the response time, the FullHD model boasts of only 1 ms .
The panel, beyond the refreshment, is less impressive compared to the direct competition, both in brightness (350 nits) and in contrast or color coverage, which is 100% sRGB.
Choosing a high refresh rate of 360 Hz means giving up the sharpness that a panel with more resolution would give us on such a large diagonal.
In addition, the 17.3-inch diagonal does not marry too well with the FullHD resolution as soon as we get involved in tasks that require high sharpness.
HP OMEN 17 Review : Powerful Gaming Notebook Plays in a Higher League | Tech Reviews
The multimedia section is endorsed with the speakers , to which Alienware has given them the prominence they deserve in the design. And that shows.
We have two stereo tweeters (2W each) placed between the keyboard and the screen, spanning the entire width of the computer, but there are also two dedicated bass speakers (also 2x2W) placed very well in the corners. front of the casing.
Every detail adds to the design of this Alienware X17 R2, such as the four speakers, two of them for bass and strategically located in the corners.
The sound we get with this combination is powerful, balanced and with a very good bass presence, something not very common.
The sound, in addition, is Dolby Atmos , with a fairly defined surround effect and to be appreciated in games. We also have an interesting configuration suite within the Alienware control center for this family of gaming equipment.
A very high-end configuration but that must be paid for
The most complete model of the Alienware X17 R2 could be configured with the "Alder Lake" Core i9-12900HK processor accompanied by the Nvidia RTX 3080 Ti graphics with 16 GB of GDDR6 memory, as well as up to 64 GB of DDR5 RAM at 4800 MHz and storage of 4TB RAID or (2x2TB) M.1 PCIe. Can you imagine the price?
The best configuration of the Alienware X17 R2 is a real beast in every way, including mechanical keyboard. For him we paid almost 5,000 euros.
With the FullHD panel it stays at "only" 4,599 euros , while if we choose the UHD screen and the mechanical keyboard, we are already close to 5,000 euros (in reality it is 4,899 euros). If we opt for the basic configuration, based on the RTX 3060 GPU, the price starts at 2,148 euros .
The configuration that we have tested can be considered at a high level (3359 euros), with an Intel Core i7 12700H processor (14 cores with 24 MB L3 cache and up to 4.7 GHz maximum turbo frequency), 32 GB of memory 4800 MHz DDR5 RAM (2×16 GB for a maximum of 64 GB), 1 TB PCIe NVMe M.2 drive (with performance of 6500 and 5000 MB/s in read and write modes), and RTX 3080 Ti graphics with 16 GB of GDRR6 memory .
The performance of the test unit has left no room for doubt, both in raw power and in graphic performance, where the RTX 3080 Ti prevails with obvious superiority with limitation "only" at 175 W.
In Cinebench R20, compared to other models analyzed this 2022, Dell's configuration is somewhat below that of Lenovo with the same base processor.
Other results remain within the expected margin, always performing the tests with the maximum performance profile. In Cinebench R23 we get almost 15000 and 1726 points in the Multi and Single Core tests respectively.
At the level of graphic performance , it is on par with the model analyzed this year with the same graphics, both in synthetic tests and when playing, where, at 1080p resolution and Ultra quality, we exceed 150 fps in the game that we use as a reference in Engadget : Shadow of the Tomb Raider.
With other titles, going over 100 fps is normal . We averaged 123fps in GTA V, 111fps in Far Cry New Dawn, 195 in Battlefield V, or 79fps in the most demanding game we tested: Red Red Redemption 2.
Complicated refrigeration
The little thickness of the Alienware x17 R2 is a challenge for the cooling of this equipment. The brand has baptized it as Advanced Alienware Cryo-tech and it is made up of 4 fans , something not very common in laptops, combined with four other heatsinks and an exclusive Alienware gallium-silicone thermal interface material.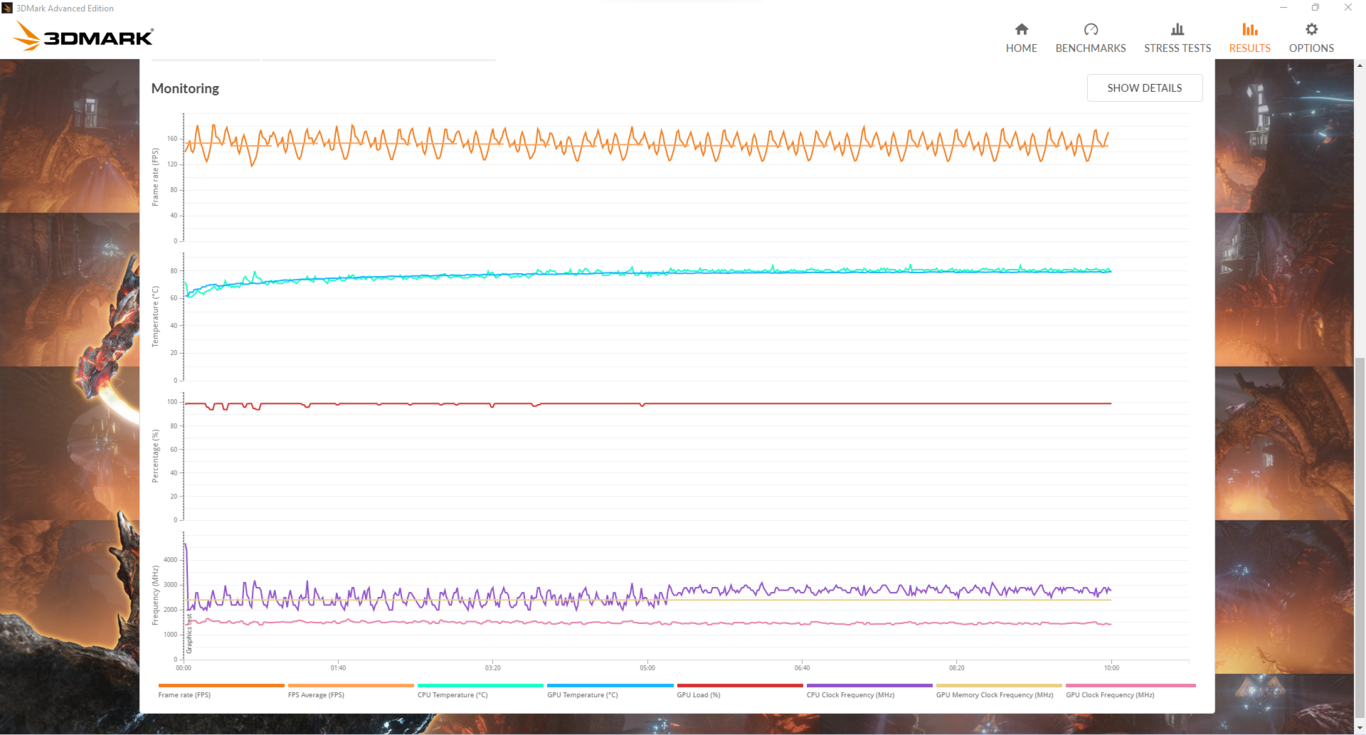 All this literature on cooling in the end is useful for something, in this case so that the performance does not decline as standard , there are no technical problems and even the equipment, except on the knees, is fully usable even demanding the maximum, although the separation between keyboard and screen reaches temperatures that are very annoying if we put our hand on it.
Although in undemanding tasks the temperature of the CPU remains between 50 and 60 degrees Celsius, at full capacity it remains continuously above 100 degrees even with the fans at maximum speed, although, in its favor we will say that without a particularly annoying noise.
Lenovo Legion 5 82NL000RGE Review : Real Good Mid-Tier Laptop
The ideal is to play with the different energy profiles to achieve, depending on what we prefer or need, more performance at the cost of higher noise, or discretion in the use of the equipment even though the final power that we obtain is lower.
Pure gaming laptop battery
The design of the Alienware X17 R2 , where portability has not been precisely sought, could already give us a clue that the idea behind the team was not going to be that we could play on the move.
The battery capacity in this Alienware is 87 Wh , without rushing the 99 W that we usually find in this range of powerful laptops with a large screen diagonal.
In reality, this has translated into an autonomy of just over an hour playing (and with the corresponding reduction in performance) and between 2.5 and 3 hours in more common and consumer use.
Of the Alienware X17 R2 it is surprising that the standard charger (330 W) is of such a small size and weight for what is usual. It is proprietary but it is the only one of this type of portable gaming machine that we wouldn't mind carrying with us all the time.
Choosing a mechanical keyboard is the star option
Among the enormous options that Dell gives to configure our Alienware X17 R2 to measure, the keyboard is the most interesting if we already have a decided hardware configuration. Here it is worth opting for the option of a Cherry MX mechanical keyboard, especially when the price of that configuration is "only" 100 euros more.
For 100 euros you can choose a Cherry MX mechanical keyboard option that improves the already excellent individual RGB keyboard that comes standard.
In any case, if we do not want to rush the budget so much, the standard option based on a membrane keyboard is also one of the best solutions available in a gaming laptop, with enormous lateral stability, perfect travel and practically zero noise.
The touchpad has been somewhat less suitable for me , but for a purely size issue. On a 17.3-inch notebook one expects more space for this element. Where it does more than meet is in precision, tact and reliability. It works perfectly both in presses and pressures (nothing abrupt but with touch) and gestures.
Alienware X17 R2, Fadvices opinion and note
Higher-end gaming laptops don't come cheap. Exceeding 3,500 euros is easy if we add aspects such as the finish. This Alienware X17 R2 is perhaps one of the clearest examples.
Huawei MateBook D16 Review (2022) – Two Steps Forward,
If we were looking exclusively for pure performance figures and balance between price/performance, there are more balanced solutions, even in this same family of Dell equipment. Also, in the equipment we have tested, the limited resolution screen or the battery work against it.
The Alienware X17 R2 war is played more in other areas such as exclusive design, good sound or a reference keyboard. And there if it marks differences against its rivals.