Google Nest Wi-Fi Pro Review : A Forceful Measure To Recover WiFi Coverage At Home & At Maximum Speed | Tech Reviews
The demands for WiFi networks are increasing more and more, because in a house there are more devices connected to the Internet and there are services that reproduce heavier content. That is when many people have come up with the idea of ​​installing a WiFi Mesh network . 
As we have explained on some other occasion, it is a technology that allows the creation of an intelligent wireless network, managing traffic as optimally as possible and constantly analyzing the freest connection channels to avoid network saturation.
And it is that not everyone enjoys all of their contracted fiber for various reasons, either because the workplace is far from the router or simply because they live in a town. In this sense, Google has long been involved in the world of connectivity to improve home or business networks, in order to increase the range of the wireless network to reach every possible corner. And for that, those of Mountain View a device of great magnitude like the Google Nest WiFi Pro , of which we have done an analysis to see its true potential.
Google Nest WiFi Pro: technical specifications
Whether at home or in an office, the space is increasingly loaded with other electronic devices, becoming a maze of obstacles to wireless coverage . With the aim of removing all these problems at a stroke, Google launches the first tri-band device with a WiFi 6E connection , which maximizes bandwidth.
Through the compatibility with WiFi 6E, you can work with the 6 GHz, 5 GHz and 2.4 GHz bands, as well as the inclusion of WPA3 encryption to guarantee the security of the connection
But it is not only necessary to focus it on work, because there is also the use for gaming . With such a device at home, latency can be reduced and connection stability improved in titles with a vocation for multiplayer. This router, as has been the case in previous generations, can expand its mesh network through other access points that can be purchased together, but yes, this Nest WiFi Pro is only compatible with itself , since it cannot be linked to older devices, something that is logical considering other generations do not work with the full bandwidth of the network.
GOOGLE NEST WIFI PRO
CONNECTIVITY

Up to 120 m² per router

Expandable IEEE 802.11s Mesh WiFi

Scalable system (you can add more routers to expand coverage)

ROOF

Matter Device Driver

Border Router Thread

SMART HOME

Wi-Fi 6E, Wi-Fi standard 802.11ax

AXE4200: combined speeds up to 4.2 Gbps

Supports up to 300 devices connected per network

SECURITY

WPA3 encryption

secure boot

security updates

Wi-Fi STANDARD
– 2×2 WiFi 6 (2,4 GHz)
– 2×2 WiFi 6 (5 GHz)
– 2×2 WiFi 6E (6 GHz)
DEVICE COVERAGE

Can manage up to 100 connected devices per access point (up to 200 devices on a network with a 2-pack)

PROCESSOR

64-bit dual-core ARM CPU

MEMORY

1 GB of RAM

STORAGE

4 GB flash memory

CONNECTIONS

Two Ethernet ports supporting 1 Gbps wired speeds for each router

FEEDING

22W power adapter

COLORS

Snow White

DIMENSIONS AND WEIGHT
130 x 117 mm x 85 mm

450 g

PRICE
219.99 euros
Through support for WiFi 6E and the AXE4200 standard, the router is capable of combined speeds of up to 4.2 Gbps, with a 2 x 2 antenna array for the 6 GHz, 5 GHz and 2.4 GHz bands. GHz, as well as the inclusion of WPA3 encryption to guarantee the security of the connection. In addition, according to the company, a single router can cover a room of up to 120 square meters . In the event that we use a configuration of two routers, the area expands to 240 square meters. Buying the pack of three units, it is possible to cover up to 320 square meters.
As usual, we also find 1 Gbps Ethernet ports , either to connect our equipment from the network cable, or to connect all the routers through this connection and depend less on the instability caused by the wireless network. Another advantage of this Nest WiFi Pro is that it can also act as a Matter -compatible Hub to build a smart home ecosystem , although we still have to wait for the standard to launch soon.
Installation is much easier if it is with Google Home
We do not want to give more hype than necessary to the external appearance, beyond the fact that Google insists on manufacturing it as if it were an element of decoration and that it goes completely unnoticed in the domestic environment. It has a design very much in line with what we have been seeing in their home devices. In white and with a curved finish, all the connections are located on the back of the device, giving rise to a minimalist and elegant appearance.
To put a hitch, we missed the speaker and microphone that are included in the access point to be able to use it with Google's virtual assistant, but we had to focus more on connectivity than versatility. It is designed to be the nerve center of the entire ecosystem that surrounds it, monitoring and controlling the connection with other devices such as security cameras, thermostats, smart plugs, etc. Oh, and it consumes less energy, not insignificant for these times .
Best of all, the installation can be done by anyone who knows how to handle a mobile phone, without the need for any technician at home. The installation guide presented by Google Home is simple, explanatory and intuitive, taking care of the entire process while we just have to wait and follow its instructions.
But before all that, you have to connect it to the electrical network and make it work. After using the 22-watt power cable, the next step is to connect the Ethernet cable that comes in the box to the RJ-45 port of the modem router that the contracted operator gave us. Be careful in this step, because you will realize that there are two Gigabit Ethernet ports, but we must make sure that we connect it to our modem-router using the appropriate one, which is the one on the left with the round icon .
Typically, both your modem router and the Nest WiFi Pro need to be close in order to stay connected, but there are two ways you can avoid doing that. One resides in the UTP cable pre-installations distributed in the structure of the house, which allow these two devices to not be physically in the same room. 
The other, somewhat more rudimentary, is to extend the Ethernet cable through the wall to where you want to locate the device. Obviously, if we add a Mesh router, this cable connection would not be necessary, since the mesh network that we have mentioned above would be created. Of course, wherever it is, the key is that it is located in a high place and clear of elements so that there is no interference.
Returning to the installation process, once we have completed the physical task, it is time to work with the Google Home app , which of course is available for both Android and iOS . We add the new device from the corresponding icon, and from there the app guides us both narratively and graphically the step by step that we must carry out. 
The only tasks is to assign the SSID and password that the new mesh network will have, since during the rest of the process the app is in charge of configuring it and doing the necessary connection checks so that everything goes perfectly. Everything would be ready to work, although with Google Home we can do some additional configurations, such as choosing a priority device, creating an independent network for guests or a family WiFi to pause the connection on a scheduled basis.
Testing the true potential for all areas of the house
Obviously, this device had to be put to the test to see the potential it can offer on a day-to-day basis. We have to say that we have not had a second router to serve as an access point and thus create a mesh network, so the Nest WiFi Pro has been seen alone in danger. Without being exaggerated, my house was a real acid test for this device., because it was with 130 square meters and with a multitude of things in between creating obstacles, since it is under reform. 
It must be added that it is a house with its corresponding upper floor, so the space is not reduced at all. On the other hand, it is true that I have contracted 1 Gbps symmetrical fiber optics with Orange, but I can already assure you that living in a small town you will not reach those speed levels, not even reaching 500 Mbps maximum speed.
Chromecast with Google TV (HD) Review : The King Of Media Players For Those Who Do Not Need 4K | Tech Reviews
Given this scenario, I decided to do two types of tests, placing the device in a high place, specifically on top of a piece of furniture that was located at the entrance of the house, together with the router modem . The first was to see how the connection behaved in situations of real stress . With the help of my computer, I simultaneously played a Disney+ movie, a Twitch stream , and a full-length 4K YouTube video, all at full quality. 
To add more meat to the grill, I used my mobile to put another Disney + movie, the first of Black Panther, for the interest of the marvelitas. Well, with all that working at the same time, I have the pleasant news that it was like silk, without latencies, or stoppages, or load times. During the test time and with an eye on all the videos, I did not notice any hint of exhaustion, with a scandalous fluidity in the image.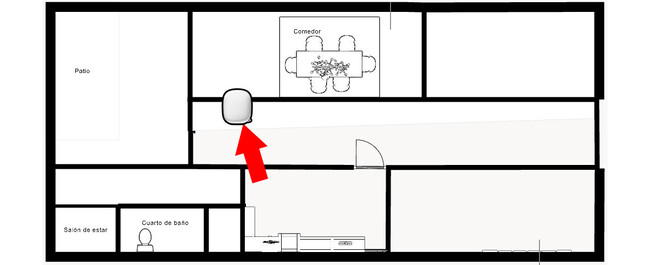 So far, everything is very nice, taking into account that I did this test near the Nest WiFi Pro, but I had to check if it solved the main problem of a connection at home, which is what these network equipments were created for, and that is not it is another that the one of the total coverage in any corner. For this, I used both the Google Fiber tool on the computer and an application to check the speed also on the mobile. Such an app is called WiFi Analyzer , available for Android and iOS .
During speed tests I did, I was able to keep up to three videos playing at their full resolution simultaneously anywhere in the house.
I started by checking the maximum speed that this equipment can offer in its nearest area of ​​​​influence, to see how far it was capable of going. Keeping all the videos playing, I did the first speed test with the Google tool, whose analysis yielded some spectacular data . As can be seen in the exposed table, it far exceeds the speed that Orange's Livebox 6 usually offers me. This connection more than allows you to watch movies in high definition, make video conferences and even play games. All of that at the same time.
It was time to test the coverage in other parts of the house, first testing it on the top floor. Let us remember, as can be guessed in the plan that we have attached between these lines, that it is a space with multiple walls, in addition to adding its stairs, all the furniture and other elements that participate in a reform. With that distance, the strength of the connection dropped slightly, since both download and upload figures dropped significantly. 
Of course, taking into account that all the videos that I played in the first test were still there, so the capacity of this device reaches quite long stretches. Afterwards, I went back downstairs to the first floor to go to a room that is just at the other end of the house. 
Microsoft Surface Laptop 5 Review (13.5″) – Different Inside, Same Outside? | Tech Reviews
There, with more walls and rooms in between, there was a more pressing drop , but I was surprised that the modem router offered better figures than the Nest WiFi Pro in that area, perhaps due to some type of interference. Apart from this, the Google device connection was still very stable and behaving really well.
With respect to the measurements collected with WiFi Analyzer , as seen in the screenshots below these lines, the first speed test near the device yielded figures very similar to those I did with Google Fiber, so the mobile does not show its lower capacity to host a wireless network. 
Also, taking advantage of the fact that the application had a test to analyze the ping, I verified that no application exceeded 20 ms of latency , not even in games, something wonderful for gamers . Repeating the test upstairs, these figures dropped significantly, but it was still playing all the videos simultaneously and the connection was still stable.
Google Nest WiFi: Fadvices opinion
We have already mentioned this WiFi Mesh technology and the mesh network that can be created in a space on several occasions, as a solution to any problem of instability or latency in the wireless network. It is a technology that allows you to create an intelligent wireless network, managing traffic as optimally as possible and constantly analyzing the freest connection channels to avoid network saturation, especially if there are several devices connected to it. Such is the evidence that even a server has been able to solve a years-old problem because the operator's router did not go through two walls in a row. Things of living in a small town.
If you are looking for a solution to your WiFi problems and want to opt for a Mesh system, this is a good option to consider.
But, as with this type of device, it is an investment for those who truly have this connectivity deficiency and who urgently need to improve it, knowing that the WiFi Mesh network is not a cheap system at all. Luckily, this Nest WiFi Pro adds to the growing offer of these devices on the market, where you can already find a wide range of prices that fit every pocket. 
If we have to put a hit on it, the price is high without reaching a disproportionate level, assuming a barrier for many users to end up opting for other cheaper options, such as repeaters or PLC extenders. If you are looking for a solution to your WiFi problems and want to opt for a Mesh system, this is a good option to consider.
As we have commented in previous lines, in this analysis we have not had one more unit as an access point to supply the entire space of the house and have the same connection speed in any corner, but with the 120 square meters it occupies Just one copy, the wireless experience is more than gratifying , being able to end connection problems in most cases.