Murphy's Law says that we will always (or almost always) receive a voicemail at the most inopportune moment. Whether it is at a time when we cannot hear it or we are simply too lazy to do so, it is a compromise for us considering that it may be something important or the other person may be annoyed that we do not listen. That's why, transcribing that piece of audio into text is quite useful which can be very well received at such times.
There have been methods for converting WhatsApp audio to text for a long time, although a simple way to transcribe these messages has recently been discovered. works on both iPhone and Android. Also, you don't even need to install a third-party app or anything similar. Simply add a new contact.
WHATSAPP Tricks and tips to HIDE YOURSELF TO THE MAXIMUM and maintain your PRIVACY
A bot will convert voice messages into text
As WhatsApp decides to integrate functionality like this natively, something that Telegram already has in its Premium version, we have to resort to methods such as those of "Alfred The Transcriber". This is a bot created for WhatsApp and whose sole mission is to convert those voice messages into text.
To do this, simply you have to add the number +14156809230 to contacts . You can save the contact as "Alfred The Transcriber" or any other, since in the end that will not affect its functionality.
Already having that contact saved, you will have to open the chat in which you received the voice message, select that file and give the option to forward. As you may have imagined, you will have to forward it to that new number you saved and, in just a few seconds, the bot will start to act.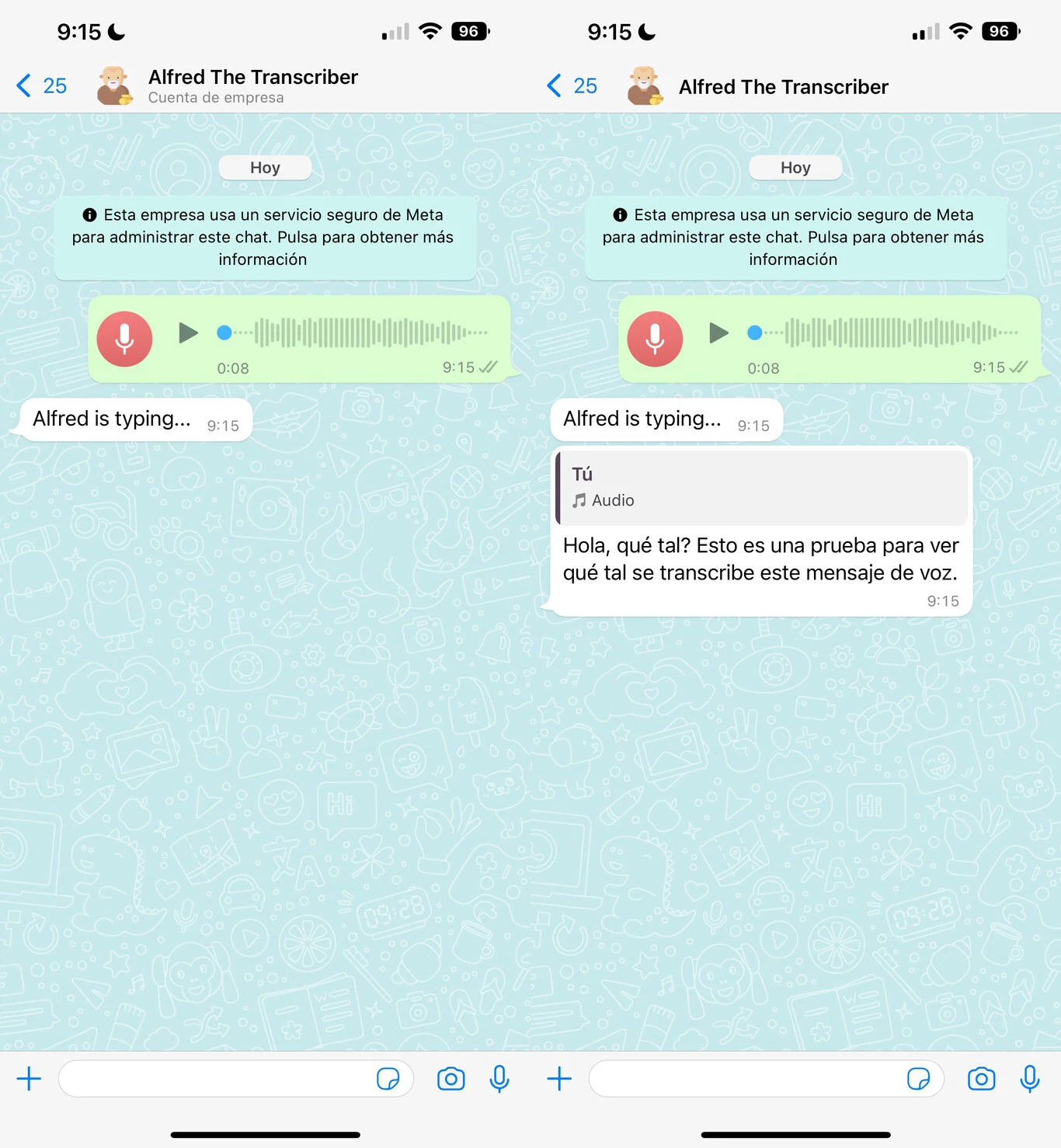 It will first send you an automatic "Alfred is typing" message (alfred is typing) and moments later it will send you the complete transcript of the message. However, we must say that is limited to audio up to 60 seconds. If you share a voice message longer than one minute, you will receive a message reminding you of this limitation, as well as how to be aware of future updates from the bot, which may include extending that time.
Be that as it may, in audios of less than a minute it works quite well. As is also the case with apps for transcribing audio, you can occasionally mix up words. It all depends on the pronunciation and speed of speech, as not everything may be perfectly understood. However, it can get you out of trouble on more than one occasion and even understand the message without transcribing if you understand the context.
The bot is end-to-end encrypted, there are privacy policies on it, but in the end you will be sharing private messages with strangers.
We also have to make you privacy warning Regarding this bot, which is not a person in itself, but there is a team behind it that can access the audio. As described on the team's privacy page, they won't share your voice memos, but you will still be sharing them with them.
Therefore, keep in mind that in the end you will be sharing private messages with strangers. What is certain is that with the bot it is still maintained away from leaks by third parties thanks to the end-to-end encryption of WhatsApp that is also available in your regular chats.