Huawei Mate 50 Pro Review : Huawei's Umpteenth Lesson On How A Camera Should Be Made | Tech Reviews
Huawei does not give up on the high end. In April we were able to test the Huawei P50 Pro and, just a couple of months ago, we reviewed the Huawei Mate XS 2 , the company's new foldable. The latest high-end to reach the family is the Huawei Mate 50 Pro , the company's flagship . The most ambitious camera hardware, a new processor and (almost) all the meat on the grill.
We analyze in depth the Huawei Mate 50 Pro, a device that faces the challenge of falling in love despite not having Google services, and with the ambition of having one of the best cameras on the market . We already anticipate that it fulfills a good part of what it promises, although the shadow of the software will accompany you throughout this analysis.
Data sheet of the Huawei Mate 50 Pro
HUAWEI MATE 50 PRO
DIMENSIONS AND WEIGHT
162.5 x 75.5 x 8.5 mm
205 grams
SCREEN
6.74-inch OLED
FullHD+ resolution (2,616 x 1,212 pixels)
Refresh rate: 120 Hz
Touch sampling rate: 300 Hz
1,070 million colors
Huawei Kunlun Glass
PROCESSOR
Snapdragon 8+Gen 1 (4G)
GPU Adreno 730
RAM MEMORY
8 GB
INTERNAL STORAGE
256/512 GB
Expandable with NM Card
REAR CAMERA
50 MP f/1.4-f/4, OIS
Gran angular 13 MP f/2.2
Telefoto 64 MP f/3.5, OIS
Zoom optical x3.5, zoom digital x100
FRONT CAMERA
13 MP f/2.4
ToF
BATTERY
4,700 mAh
Fast charge 66W
Fast wireless charge 50W
Reverse wireless charge
OPERATING SYSTEM
HarmonyOS 3.0
CONNECTIVITY
4G
Dual SIM
WiFi 6
Bluetooth 5.2
USB Type C
NFC
GPS dual frequency
OTHERS
IP68
On-screen fingerprint reader
PRICE
1199 euros
Design: back to the notch
We usually start the analysis by commenting on the materials and construction of the devices, but the notch is so prominent in this Mate 50 Pro that it is worth starting by talking about it. It is currently the longest in the high-end , with a size that reminds us of what we saw four years ago in the iPhone X. Even Apple, the culprit of this (already outdated) trend, progressively reduced the size of its notch, but Huawei revives it on this front, which reminds us a lot of a Mate 20 Pro .
Nobody likes having a notch size on the front of the device, but there is some justification for its implementation: we have 3D facial recognition
The presence of this notch, despite its length, is justified. Huawei is betting on 3D facial recognition , which we'll talk about later, and the price for having such advanced technology is making certain sacrifices on the front of the device.
If we talk about the rear, the module is even more of a protagonist than in the last generation . Personally, the Mate 40 Pro seemed to me a somewhat more elegant mobile, by integrating the lenses directly into this glass module. In the Mate 50 Pro, in addition to having a module that protrudes more, the lenses are located in a somewhat less refined 2 + 2 position. It is the price to pay for having bigger and bigger sensors.
The rear auction is not too convincing either, with a glass that is full of fingerprints and slips a lot. It is enough to pose the finger so that the footprint is very marked. In return, Huawei includes a transparent cover in the box that solves part of the problem, as well as a plastic protector on the screen.
The button panel is perhaps a bit high, especially if we talk about the volume buttons. The unlock button is quite small, but not in a bad position. The touch is quite solid , they don't dance at all and they respond firmly.
In short, a well-finished mobile , with the drawback of being quite dirty on the back, and with the return of a notch that could be smaller, but that at least justifies its reason for being. For better or for worse, this Mate 50 Pro has its own personality in 2022, something that is not so simple.
Display: More hertz, same resolution
If we talk about the screen of this Huawei Mate 50 Pro, we go from 6.76 inches to 6.74, the Full HD + resolution is maintained. The refresh rate goes up to 120 Hz , but we are not facing an adaptive panel of the LTPO type. At the level of sharpness, colorimetry and general experience, it is a great screen. It is hardly far in quality compared to that of a Huawei P50 Pro, with the drawback of having a lateral curvature that causes more problems than joys.
This generation we have suffered some ghost pulses. The screen is very sensitive in the area of ​​the curves
Aside from the shading that is generated by these types of curves, we have experienced a few ghost clicks . If we hold the mobile firmly, the curve falls on the surface of the fingers and, when detecting that this is a press, we have had problems with some applications.
Another of the problems that we have had with this Mate 50 Pro has to do with the automatic brightness, which is too conservative at an energy level. Even in the street, in full sun, the brightness has not been raised to the maximum , forcing me to raise it manually from the 75/80% in which it was maintained. This is something easy to solve by software, although at the time of analyzing the phone the problem was present.
From the settings we can choose between a vivid mode and a normal mode, and can also change the color temperature to warmer or colder. The refresh rate can be forced to 120 Hz , or we can keep it in dynamic mode so that it oscillates between 120 and 60 Hz to try to save energy.
The same happens with the resolution, we can reduce it to 1,744 x 808 (a little more than HD) to save battery, something that we do not recommend in a panel of this size , since the pixels begin to be appreciated at the edges.
If the notch bothers us excessively, we can virtually draw a black frame that obscures the entire upper part. If we activate this option, we completely kill the symmetry between frames, and we will have a huge virtual bevel at the top of the design.
The general feeling with the panel is very good. It does not compete within the top 3, but it remains in a good position in terms of balance. The 2K is missing in an Android of this price and size , in addition to the LTPO technology. However, a panel that is enjoyed and fought within the high range.
Sound: balanced, powerful and full
The sound section was already good the last generation, and the experience is repeated in this Mate 50 Pro. We have two speakers for stereo sound, with a very good volume level and the only sin of not fully enhancing the bass. From 80% there begins to be a noticeable distortion, although the maximum volume is so high that we will not need to put it to the maximum to enjoy a good experience.
In the event that we connect our headphones, we will access various sound profiles, including the Huawei equalizer. We would like to find these options for the device's own speakers , in order to customize the sound that the phone emits to our liking. As in practically all the high-end, there is no headphone jack , so if we want wired audio we will have to resort to port C.
Performance: Qualcomm heart and a lot to say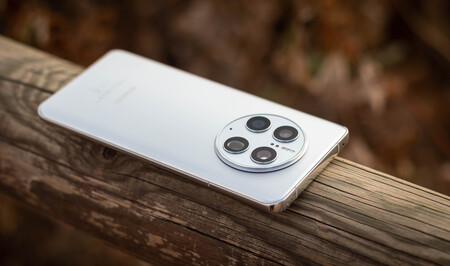 With the Huawei P50 Pro we were happy with its performance, but the inclusion of the Qualcomm Snapdragon 888 was not fully understood . With this Mate 50 Pro all the meat is on the grill, and we find the Qualcomm Snapdragon 8+ Gen 1 , Qualcomm's most powerful processor to date. Despite including this processor, 5G connectivity is neither there nor expected , since it is one of the main limitations that Huawei currently has.
Accompanied by 8 GB of RAM (12 GB is beginning to be needed for this price), the processor flies . In this phone we have hardly noticed throttling , and it is that the dissipation exercise ends up seeming to be excellent. In CPU throttling tests performance has only dropped 23%, while several of its rivals have dropped more than 40%.
These data usually accompany the GPU data. If the drop is large in CPU, the graphics unit usually has similar data. Indeed, the data is quite consistent. In the graph we can perfectly appreciate a drop from just over 10,000 points to 8,000 in the 3DMark stress test. The stability has been 74.5%, one of the phones that has best managed the Snapdragon.
Huawei Watch Fit 2 Review : Everything You Need In A Watch | Tech Review
Huawei's strategy, according to the benchmark data, is to be somewhat more conservative in managing the chip (peak scores are below the maximums seen in its rivals), in order to better control performance drops. It is of little use for a phone to reach a brutal performance peak that it cannot sustain for more than a couple of minutes, so we are more than happy with the decision made on this Mate 50 Pro.
The performance in proposals like Apex Legends in Ultra HD graphics or Genshin Impact in high resolution is excellent, with some very specific drops in FPS, but nothing worrisome. As a curiosity here, note that I have not been able to test Genshin Impact in the areas of the map that I usually use (more graphically overloaded), since without Google services I cannot log into my account .
Biometrics
When talking about biometrics on Android, we usually find ourselves in front of 2D facial recognition and a fingerprint reader under the screen. In the case of this Mate 50 Pro we have good news , and that is that facial recognition is 3D. It works very well , it is not as fast as Apple's Face ID, but it is an ideal, safe solution that works in low light.
The first days of use, facial recognition suffered a lot. After a few unlocks, it works pretty well.
It has a certain learning curve, and it is that in the first two days the facial recognition failed me a lot, to later start to work practically flawlessly as the days of use progressed.
It is complemented by a fingerprint reader under the screen that also works quite quickly, and has a fairly low error rate. In short, a practically perfect biometrics that shows that sometimes it is preferable to have a notch in exchange for a superlative unlocking experience.
Battery: Without problems to reach the end of the day
The battery of this Mate 50 Pro behaves quite well, despite the fact that 4,700mAh is not too much for a screen of almost 6.7 inches. However, the seven hours of screen time are guaranteed, with a 66W fast charging system that manages to fully charge the device in 41 minutes . In the most demanding cycle, with a lot of gameplay, 4G and some routes with Petal Maps, we arrived at 00:00 at night with more than 4 hours of screen time and almost 40% battery remaining.
In just half an hour we will have the mobile charged to 80% , so if one day we need extra battery we will not need more than a quick plug. The wireless charging is 50W, which is the icing on the cake for a charging system that does not need to be close to 100W to give a good experience.
Another point that we have loved is that Huawei allows you to limit the charge to the range that we want between 70 and 90% . The current literature indicates that not charging more than 80% benefits the useful life of the battery, making it an ideal option to maximize its longevity.
Software: Android 12, EMUI 13, Google… 0
AIDA64 tells us that this Mate 50 Pro runs EMUI 13.0 with Android 12 . The problem is the one already known in Huawei: we do not have Google services. Huawei insists that AppGallery is a good alternative to the Play Store and although its catalog is gradually increasing, it is still difficult to recommend a phone with this problem to an average user .
AppGallery welcomes us with ads, recommends applications that we don't even know about, and a large part of the apps that most users use in their day-to-day lives (WhatsApp, Twitter, Facebook, Instagram, Netflix, etc.) are downloaded externally. Petal Search is integrated into the AppGallery search engine itself , to try to find those apps that are not hosted on Huawei servers.
When it finds it in an external repository, in principle approved by Huawei, it marks us with a disclaimer notice (if we install something that is not on the AppGallery servers, even if we have searched for it on AppGallery, Huawei is not responsible) and we can proceed to install from this third-party repository.
Just like we complained about the Mate XS 2, we complained about this Mate 50 Pro: there is no consistency with the installation method. Some apps are installed directly from AppGallery, even if they are from an external repository. Others take us directly to the website, and here it is quite easy to confuse "DOWNLOAD NOW" ads with the little "download APK" banner.
Nokia G60 Review : A Slightly Different Approach To Sustainability | Tech Reviews
For the most experienced app installer, installing apps from outside won't be a big problem, but I can't imagine my close friends and family navigating through APKpure, looking for the APK download banner, and safely installing files.
There is an app called Gspace that virtualizes a space in which we can use Google apps by posing as a Mate 20 Pro. It is not the most appropriate or the most secure, but it opens the door to using Google on Huawei
Regarding Google services, we find alternatives such as Gspace , which virtualize a space in which we can enter the Play Store posing as a Mate 20 Pro. It is still a third-party app that will have all our Google passwords and keys , and in which information about all the apps that we install from this virtual space can be collected. It is in the hands of each user whether to install it or not.
It is a way to install WhatsApp with your copy of Google Drive, Google services such as Gmail, Maps, Drive, etc., as well as receive notifications on them as if they were installed natively. However, it has advertising if we do not pay , it is not as safe as the Play Store.
Cameras: Firm candidate for the best camera on Android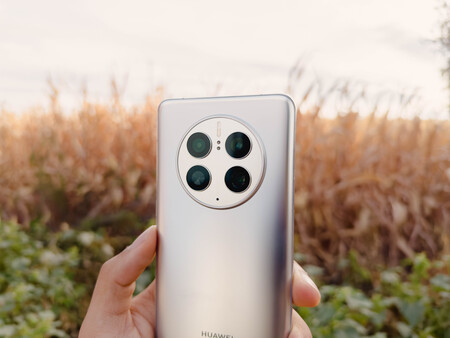 Spoiler done, this is one of the best cameras we've ever tested . But before commenting on the results, it is time to talk about the photographic hardware that this device incorporates. The module is huge, housing four huge circles, although we'll actually be using three cameras , the fourth "camera" being a proximity sensor. What sensors then this Mate 50 Pro?
Main camera: 50 MP, f/1.4-4.0, 24mm, OIS, laser autofocus.
Telephoto camera: 64 MP, f/3.5, 90mm, OIS, 3.5x optical zoom.
Ultra wide angle camera: 13 MP, f/2.2, 13mm.
Of this configuration, the most striking thing is that we have a main sensor with a variable aperture between f/1.4 and f/4.0 . The phone will automatically adjust the aperture according to the scene. Also, manually, we can change it both in professional mode and in opening mode. And while we're talking about modes, let's review the camera app.
Huawei's camera app hasn't changed much in recent years. It misses a little facelift to modernize it but, functionally, you can't ask for much more. All the important modes are in the bottom carousel , we have additional modes in a "more" tab, and what we don't like so much are the submenus that hide inside the settings menu.
For example, if we want to go from 1080 to 4K recording, we don't have quick access. You have to open the settings, go to the video resolution and change the resolution and frame rate values. For obvious reasons we do not have integration with Google Lens, although Huawei has its own "AI Lens" function so that we can read QR codes, translate texts or even try to identify the calories in a food.
But what we liked the most this generation has been the shutter speed of this Mate 50 Pro . With the P50 Pro I had some problems when it came to shooting fast. This Mate 50 Pro does not flinch, it captures images instantly and, unless we ask the shutter for many photos in a short period of time, there are no complaints.
Main Camera
Wow . I am picky, very picky , when it comes to reviewing top-of-the-line cameras. Along with the Pixel 7 Pro and the iPhone 14 Pro, this is one of the few phones that has managed to impress me this year. The dynamic range is brutal, with simply perfect highlight control, and very well controlled shadows.
In extreme situations like the example above, we see that the processing is not entirely natural , which is common in all the phones we have reviewed this year. Despite this, the level of detail is very good, and the main complaint is the noise reduction exercise, which can create some splotchy spots in the photo.
Not even expanding to 100% in the most cornered areas of the photograph we managed to nail the knee. The exercise with the sharpening is relatively moderate , and achieves that when we photograph signs or any scene that has marked edges, their limits are maintained quite naturally.
I was surprised by the warm tendency of this camera, rather than opting for a neutral white balance. Sometimes, the most orange areas are oversaturated, and even in scenes where there is hardly any warmth, Mate manages to make everything have that orange tone. It's a technically wrong decision, but visually pleasing in most scenes.
Here we return to the debate between whether we want the most realistic photograph or the one that most convinces the average user, and betting on that own look is a strong shift towards the latter. The photos of this Mate now have their own essence , and that is something positive.
In close photography it is fast and precise focusing , something that added to the good shooting speed avoids shaky and out-of-focus photographs. The shooting experience is something key in any phone and, saving the low quality of the preview, in this Mate 50 Pro we really enjoy taking photos of anything.
The high end proves that it is high end when night falls. This Mate 50 Pro is a beast in not-so-optimal conditions, with simply impeccable highlight control , a good level of detail (here we do notice the most artificial processing, but nothing exaggerated), and a general balance in outstanding photographs. .
Something quite curious happens with night mode: it should be avoided at all costs . The automatic shooting of the Mate 50 Pro already processes as if it were using night mode (it takes a little longer to take the photo to capture more light). If we manually activate the "night" mode, the processing becomes much more aggressive, we lose control of highlights and the photo is not even brighter. In short, it's better to shoot automatically and let it take care of itself.
Variable aperture
The star feature of the Mate 50 Pro is its physical aperture, which oscillates between f/4 and f/1.4, being able to play with all intermediate values. To change the aperture we have two modes. The first is the professional one, where we can set all the stops between f/4 and f/1.4, pure physical aperture .
Vivo V25 5G Review : More Than "Just A Color-Changing Phone" | Tech Reviews
The second mode is the opening mode, which in this Mate 50 Pro has two variants . The first is an aperture mode that allows us to change only the physical values ​​of the lens. The second is the classic digital aperture mode, which combines physical aperture with software. In other words, if we use physical mode and shoot at f/1.4, we're just shooting at f/1.4, with no software involved.
If we shoot at f/1.4 in virtual mode, we are simply emulating the aperture values ​​via software (for example, we can shoot at "f/16" so that there is no bokeh, but the lens will be at an actual physical aperture of f/1.4 for capture light). Here the summary is that it is better to avoid the digital aperture if we want a real bokeh. We must take into account, of course, that if we lower the aperture value (f / 4 or close to it) the lens will capture less light and we will have darker photos.
Ultra wide angle and zoom
I had to look at the data sheet of this Mate 50 Pro a couple of times to verify that the 10x zoom was not optical. About 3.5x, it is quite sharp , and this sensor is the basis from which the different zoom ranges on this device start, up to 100x.
The 100x zoom is still an anecdotal feature and real scenarios in which to use it, as opposed to 3.5x or 10x. Shooting at maximum zoom is still practically a stain, although it is a rather striking function that shows Huawei's muscle in zoom.
The ultra-wide angle is the weakest camera on this phone, a general trend in any of its rivals. The processing is very similar to that of the main camera, so there's good dynamic range and that little twist towards the warm . It is a sensor that will play and simply mandatory in any self-respecting high-end, although the quality is not comparable to the main sensor and telephoto lens.
Portrait mode
Not everything could be almost perfect in the Mate 50 Pro. Portrait mode being one of Huawei's pending subjects . If we shoot in the portrait itself, the processing of the skin is not entirely good . The tones tend excessively to pinkish, regardless of whether the skin is lighter or darker. The main problem is that Huawei understands the bokeh here as "an effect", and that is that in fact we can make the bokeh have the shape of a circle, hearts, swirls and so on.
Selfie
Even the selfie is of a level in this Huawei, which dares with the most aggressive backlights, without generating chromatic aberrations or generating artifacts of any kind. The processing of the skin here is the most faithful that we have seen to date in the company, without excessively lightening the skin , with an overwhelming level of sharpness and understanding that it is not necessary to wash anything to obtain a better photograph. Outstanding selfie to put the icing on the cake to a magnificent camera section.
Huawei Mate 50 Pro, The opinion of Fadvices
The Huawei Mate 50 Pro is a logical leap from last year's model. It is more powerful, it maintains its muscle on camera and in general terms it is a mobile with hardly any weak points. The main problem is that his only two handicaps are too heavy . We are talking about a mobile of more than 1,000 euros without 5G connectivity and without Google services, two capital points in any phone.
Even though we don't use Google apps, the Google service framework is very present in Android , for app registration, backups, and in many cases, just getting the app to start. There will be the occasional user who doesn't mind having software like this, but the vast majority of consumers will have serious problems when using such a hidden ROM.
Vivo X80 Lite Review : Defining The Balance In The Mid-Range | Tech Reviews
Without these drawbacks, the Mate 50 Pro would be one of the clear candidates for mobile of the year, with a simply brutal camera in HDR and detail, and with a spectacular overall balance. Huawei still knows how to make top-of-the-line phones , even though they're not for everyone anymore.