huawei MateBook E in review – THE Competitor for the Surface Pro? | Tech Reviews
Is it a laptop, is it a tablet? – No, it's a Microsoft Surface Pro – or maybe the Huawei MateBook E.
The Surface Pro series has been offering Windows tablets with decent performance for eight generations – which are also full-fledged laptops thanks to the attachable keyboard. However, other manufacturers are slowly jumping on the bandwagon.
Huawei is at the forefront. Since we're fans of their devices in general and competition in 2-in-1 tablets is a good thing, we obviously didn't want to miss out on the MateBook E in our tehc reviews.
Technical specifications
Huawei MateBook E

Display

12.6 inch OLED, 2520 x 1600 pixels, 16:10 format, 10-point touch, anti-fingerprint, glossy

CPU

11th Gen Intel® Core™ i3-1110G4 processor 11th




Gen Intel® Core™ i5-1130G7 processor

RAM

8GB LPDDR4 RAM 4266MHz | 

16 GBLPDDR4x RAM 4266 MHz

 (soldered)



Chart

Intel® UHD Graphics




Intel® Iris® Xe Graphics

Storage
128GB | 256GB PCIe-NVMe-SSD | 512 GB PCIe-NVMe-SSD
Ports, Connectivity
& Cameras

1x USB-C 4 /Thunderbolt 4




WiFi 6, Bluetooth 5.1




3.5mm 2-in-1 connector for headphones and microphone




8MP front camera in the frame




13MP main camera on the back

OS
Windows 11 Home 64 Bit
Windows 11 Home S-Modus 64 Bit
Battery 

42Wh | 65W USB-C power adapter

Dimensions

28.65 cm width x 18.47 cm height x 0.79 cm depth

weight

709 g (tablet only)

Housing

Four speakers




Four microphones

Colours
Nebula Grey (Grau)

Price

€699 (748.94 USD)

(Intel® Core™ i3)* at the time of this article




from €1,199

 (Intel® Core™ i5 as tested)

 *
Design, Cameras, Input devices
And what can we say: It looks confusingly like the MatePad Pro – an Android tablet from Huawei with significantly less power consumption. First of all, respect that Huawei has managed to transplant a processor with much more waste heat into such a compact housing – without destroying the optics. The only indication that the MateBook contains something high-performance are the ventilation slots on the upper edge.
I really like the look of the narrow design, because it doesn't step out of line and, at less than 800 grams, remains really light. However, it could also be used in tablets from other manufacturers, so the plastic case is not as unique in terms of feel or design as the magnesium competition from Microsoft. In my opinion, that's not too bad, because haptically it still makes a difference.
At first I was skeptical about the clip-on keyboard, because it is not slanted, but lies flat on the table. A positive side effect, however, is that it doesn't swing or wobble at all, which cannot be said about the Type Cover of the Surface. It is particularly suitable for people who like to hit the keys harder when typing.
However, both the case and the keyboard with their rubberized surface are quite susceptible to fingerprints. The Surface with the Alcantara cover solves this in a much higher quality way – but the price difference has to come from somewhere. The kickstand isn't quite as good as the more expensive competition either. It is part of the cover and not on the tablet.
Unfortunately, the Magnetic Cover is only included as standard with the more expensive MateBook with Intel Core i5 and otherwise costs €149. The M-Pencil drawing pen is only optional for both and also costs €99 individually. So if you really want to make full use of all the features of the MateBook E, you'll have to add almost €250 to the entry-level model and €100 to the expensive Core-i5. After all: At the start of the MateBook, both models will come to you for a limited time with a free keyboard and pen. Office 365 is also included for free.
A few more words about the cameras: Because there is one at the front and one at the back with 8MP and 12.6MP and they are… really good – even compared to Microsoft's Surface devices. Their sensors are a bit the crowning glory when it comes to cameras in Windows devices, but Huawei really goes one better with the MateBook E.
Mad respect from my side, because for years I've been complaining that almost all Windows notebooks really on miserable 720p cams, while every budget smartphone comes with something better. And the better part is now here in the MateBook E. So if you have a lot of video conferences or want to take snapshots, then this is much easier to do than with just about anything else – at least with Windows on it.
However, the cameras do not offer a quick login via Windows Hello recognition. There is a fixed fingerprint reader in the power button. It also worked well and always recognized my finger straight away like most smartphones under our tech reviews.
Display
That's all nice, but the real highlight of the MateBook E is definitely the screen. Thanks to the high-resolution OLED panel, you have a hell of a lot of colors, wide viewing angles and infinite contrast in the 16:10 format. Since Huawei uses OLED technology, each pixel can be dimmed individually.
If you haven't seen a panel like this before, it's hard to describe just how big a leap that actually is. In my opinion, no country sees the current ultimate display technology and yes – "MiniLED", the marketing term for silly local dimming (from Apple and Co.).
The iPad As a Laptop: What Will Work in 2022 and What Won't | Tech Reviews
Ports
But if you want to connect a larger display, it gets a bit complicated. Because apart from a USB-C connection and a jack connection, there are no ports on the MateBook. So you usually need a docking station or an adapter – unless your monitor already has a USC-C connection.
For that – and that's really cool – there's Thunderbolt 4. So you can connect high-resolution displays, transfer data at a fast 35 Gbit per second or attach an external graphics card to the MateBook E.
Admittedly, not many people do that now, but in combination with the really good display, you could turn the MateBook into a small rendering machine. It's really nice that Huawei uses this standard here.
Software
A big advantage of Huawei is always the very clean operating system. Yes, you have a few programs pre-installed here. But there's really nothing annoying about it. In an age when even expensive laptops come with McAfee demo versions that throw pop-ups at you, that's a nice thing.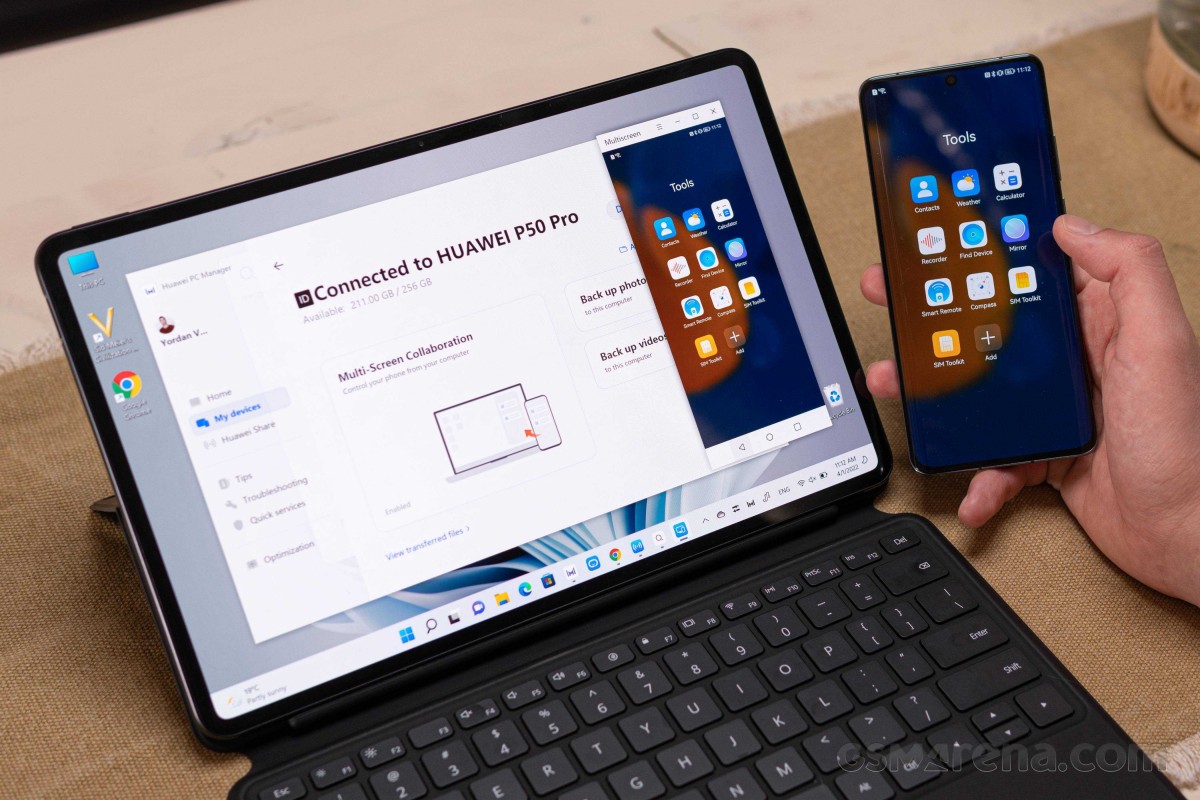 Huawei MateBook E review - GSMArena.com news" />
In the MateBook E you only get the very practical PC Manager, which always keeps it up to date without annoying advertising.
Performance
An Intel Core i5-1130G7 works inside our test model. The somewhat cryptic combination of numbers and letters stands for a special variant of the more well-known 1135G7.
Alternatively, you can also get the MateBook with a weaker Core i3; whereby it only has two cores and four threads and uses a weaker graphics unit. On the other hand, the entry-level version currently costs €699 a lot less. Here you have to buy the Magnetic Keyboard for just under 150€.
With 9W as the basic TDP, both models are significantly more economical than their more powerful counterparts, which are also used in the current Surface Pro, among other things.
However, the i5 is easily sufficient for everyday use. Especially in combination with 16GB of fast RAM and the really fast SSD, which already operates at the limit of the PCIe 3.0 interface. Of course, PCIe 4.0 would have been even nicer, but in practice you won't notice any difference here.
It doesn't matter whether we're working in Photoshop, rendering in DaVinci Resolve or pasting our browser with tabs, there are no slowdowns. Speed ​​prices – especially when rendering – but not either. Personally, I would advise you to go with the i5, since the i3 offers significantly less performance. Both are not necessarily suitable for gaming, but the i5 is still worlds more than the i3.
A round of CS:GO is definitely possible with our test device. AND: Of course you always have the option of attaching an eGPU – then a lot is possible when gaming.
Emissions
If you stress it properly, the processor briefly draws up to 30W under load, but is quickly caught up again by the convertible's fan. Almost 80 degrees were temporarily possible, but that's absolutely ok for the form factor. In the long run, the Intel chip tends to level off at 60 degrees, as it regulates itself down to 10W. The MateBook doesn't get too warm on the outside either.
A very pleasant side effect is that the 2-in-1 device doesn't get really loud either. Sure, if you run benchmarks all the time, you'll hear the small fan. But it doesn't become uncomfortably high-pitched or anything like that. However, it remains absolutely silent during normal surfing, including YouTube videos in 4K. So really comfortable to work with.
Battery Life
Unfortunately, the battery life was less pleasant. Our test included between four and six hours. The competition from Microsoft and the in-house MatePad Pro are significantly better. However, due to the OLED screen, the endurance of the Huawei tablet can vary greatly.
If you have a lot of dark screen content, the MateBook can last a little longer. However, the runtime is not really good.
Speaker
But the speakers are really solid. Although the Surface Pro 8 is a bit better, the MateBook E offers a really good sound compared to many other tablets AND laptops. You can even hear deep tones with it and no other frequency range is too out of line.
The only drawback is that it sounds a bit boomy at the highest volume. So it overdrives a bit. But it also gets really damn loud. A good thing for the occasional Netflix watch on the couch.
Conclusion
The MateBook E put me through a bit of ups and downs during testing. Because the form factor, the display and the input devices are really strong. And the screen in particular is even better than that of the equally excellent Surface Pro 8. Unfortunately, the battery life is not the best – and that is simply important with such a portable device.
Also, the single USB-C port might be a little inconvenient if you don't have a docking station handy.
At just under 1200 euros, the variant tested here is not that far removed from the Surface Pro 8, which is the best in its class. But at least the MateBook E has more memory and the magnetic keyboard "for free". Unfortunately, the M-Pen for drawing work is always only an optional feature.
The version with a Core i3 could also be exciting for bargain hunters. We haven't tested them, but if you want a Windows tablet with a really good display and good cameras for office use, then it's worth recommending for currently 699 euros. Here you have to buy the Magnetic Keyboard as well.
Overall, it's nice that there's growing competition for Microsoft's once-unique Surface Pro 8. And for some users, the MateBook might even be preferable due to the display and form factor.
Lenovo: Media and Gaming Notebooks in an Overview | Tech Reviews
What do you all opine? Are you more of a Team Surface or Team MateBook? Write it to us in the comment section.