Kobo Clara 2E Review : A Good Option If You Are Looking For An Electronic Book With Good Value For Money | Tech Reviews
Kobo has been, for a few years, an electronic book brand that belongs to Rakuten and has wanted to compete against Amazon Kindles. After the success of both the cheap Kobo Nia and the great Kobo Elipsa , the company wants to balance its offer with the newcomer Kobo Clara 2E.
This eReader is a step up from the Kobo Nia in functionality, but it lacks the stylus, large size, or cloud services of more expensive models like the Kobo Sage , which also has its advantages.
Kobo Clara 2E, Technical Specifications
| | KOBO CLARA 2E |
| --- | --- |
| DIMENSIONS AND WEIGHT | 112.05 x 159.02 x 8.66 mm | 171 g |
| SCREEN | 6-inch HD E Ink Carta 1200 | Resolution 1448 x 1072 | 300pp | dark mode |
| STORAGE | 16 GB |
| PROCESSOR | 1 GHz |
| BATTERY | 1500 mAh |
| CONNECTIVITY AND PORTS | WiFi 802.11 ac/b/g/n | Bluetooth | USB-C |
| WATERPROOF | IPX8 |
| OTHERS | TypeGenius | ComfortLight PRO | Funda opcional |
| SUPPORTED FORMATS | eBooks: EPUB, EPUB3, PDF, FlePub and MOBI Audiobooks: Kobo Audiobooks Images: JPEG, GIF, PNG, BMP and TIFF Text: TXT, HTML and RTF Comic Books: CBZ and CBR |
| PRICE | 149.99 euros |
An eReader that conquers on a daily basis
Little has changed in the exterior design of the Kobo Clara 2E if we look at past generations. We have a 6-inch screen in a black plastic body on the front and bezels, while the back is a carbon copy of the Kobo Nia , if it weren't for the fact that they've placed the on/off button in the top right corner.
This choice for the button greatly complicates use for a left-handed person, like a server, but it is also fair to say that we are not going to find ourselves in the position of hitting the button too many times , especially if we have the cover on, a very comfortable accessory that we can buy in various colors to read without having to take the Kobo Clara 2E.
Its weight allows it to be used with one hand in a really comfortable way for a long time , and the texture in the form of ocean blue waves on the back means that it does not slip from our hands , even when we held it with only three fingers.
The reading space is standard, and given the size and price of the device, there is nothing to object to . We also have a small LED indicator that tells us when it is charging , as is the case with other readers in the company's range. Mind you, it doesn't turn on when it's in standby mode. Again, we believe that this is an incentive to accompany it with a cover, which does turn the screen completely off when closed.
With the button located on the back, all the sides of the Kobo Clara 2E are free , and the only thing that interrupts them is the USB-C charging port on the bottom, to the side. Depending on the hand you're reading with and the position you're in, it can be awkward to charge and use at the same time, but you won't need to plug it in more than twice a month .
One of the strengths of the Kobo Clara 2E is its IPX8 water resistance , which allows us to take it to the pool, the beach or the bathtub in our house indistinctly. In this way, the reader can even be immersed in water, and although we did not want to test it, one remains calmer in the event of an aquatic accident .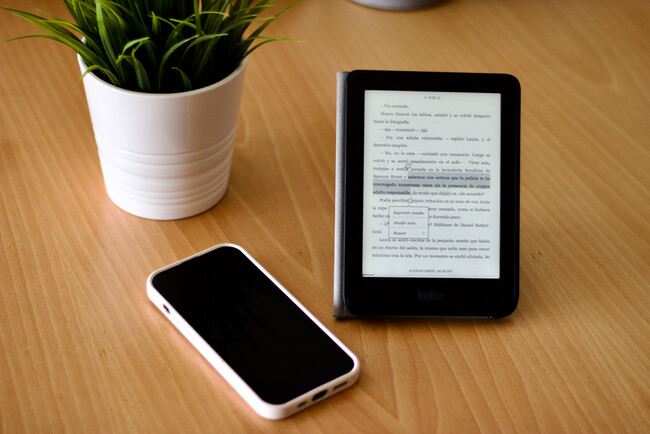 If we look at their connections, we have Bluetooth and dual-band Wi-Fi . More than enough to update the software, connect our headphones if we have an audiobook or want to discover new stories in the eBook store. What the Kobo Clara 2E does not have is Dropbox to access content that we have in the cloud, but it will not be a problem if you are a reader who is just starting out in the world of eReaders.
Screen: many options for day (and night)
For people looking for a compact size, the Kobo Clara 2E is the perfect reader , but if you like to read big and smooth, you should look elsewhere.
The Clara 2E screen has a size of 6 inches with a resolution of 300dpi with somewhat generous frames , but despite its size, the result is good: it is an E Ink Carta 1200 panel, the same as the Kobo Libra 2, and its brightness level is impressive .
We have not had any problems reading in full sun , since in addition to that level of brightness, the screen is anti-glare, and although there is a small glint when reading in the sun, the only real annoyance when reading in these conditions will be that it is too hot .
On the other hand, we can change the color temperature and brightness level or let the Kobo Clara 2E manage them automatically thanks to what the brand calls ComfortLight PRO. Among the settings we also find a night mode that is activated at the time we want.
Something that we have noticed is that, when we resume reading from the menu, the icons at the top are faded on the first page, and they disappear completely when we continue reading. It doesn't get to be annoying, but they are there throughout the page.
Autonomy: no cable? no problem
The question of autonomy has never been a problem for an eReader, and it remains unforeseen in the Kobo Clara 2E. Although the brand has included a USB-C (which improves the speed of charging and data transfer), the truth is that we have not had to charge it in the two weeks that we have been analyzing the device, reading someday yes and other not
According to Kobo, the Clara 2E's battery lasts "weeks," and so it will as long as you maintain standard usage. With the brightness at maximum and reading several hours a day , every day, you will probably have to reach for the plug before those weeks. For a normal user, peace of mind in terms of autonomy is assured .
In any case, we have settings to put the reader to sleep or to turn off the screen after several minutes (even an hour), as well as security settings such as an unlock PIN or the charging indicator on and off.
Software: If It's Not Broken, Why Fix It?
We continue with very few changes to the software that Kobo offers to download the books we buy and set up our eReader. Whether you have Windows, Mac, iPhone or Android, you can access their online store and connect the Kobo Clara 2E to transfer content from your computer.
Of course, this function can also be carried out from the device itself through the WiFi connection , and although we believe that it could have a greater fluidity when browsing the store, the truth is that it perfectly fulfills its function .
The catalog is very extensive, with more than five million books in 100 different languages, and we have had no problems finding any type of content. Neither with the storage, since the Kobo Clara 2E has a generous 16 GB of storage , enough for the most devoured books.
Kobo Clara 2E: Fadvices opinion
This is an eReader worthy of any user who wants to enter the world of electronic ink or who wants to renew their old reader that they used to read occasionally. It is comfortable, light, compact and with a screen good enough to read for several hours at a time.
iPad (2022) Review : Apple's New Entry-level iPad | Tech Reviews
If on the other hand you are already a modern reader and it is not your first device (or your second), you may be interested in something more premium , or maybe something bigger. The Kobo Clara 2E is a budget reader, and if you're already used to other sizes or larger screens, the change would be remarkable .
In any case, the Kobo Clara 2E is now available on its official website and will be a great option if you're looking for your first eBook to re-engage in literature .