LG TONE Free Fit TF7Q Review : The Headphones That I Would Take To Any Training Are Also A Weapon To Kill Bacteria | Tech Reviews
LG has a weapon to compete with the best sports headphones and, although its name is not too simple, we already anticipate that the LG Tone Free TF7Q is a convincing proposal. A design designed by and for sports activities, active noise cancellation, water resistance and collaboration with Meridian to achieve high-resolution sound.
These LG Tone Free TF7Q pass through our analysis table, an interesting value for money proposal to have sports-oriented TWS headphones, but without sacrificing first-class sound quality.
Data sheet of the LG Tone Free TF7Q
LG TONE FREE FIT

ARCHITECTURE

Completely wireless in-ear headphones (TWS)

DIAPHRAGM

6 mm

NOISE CANCELLATION

yes (active)

CONNECTIVITY

Bluetooth 5.3

AUTONOMY

10h only headphones




24h with the charging base




Charge in 2h

DESIGN

24.8 x 23.5 x 26.7 (6g)

OTHER BENEFITS

UV self-cleaning case




Meridian Technology

PRICE

From 179 euro
Design: comfortable and clean (or so LG says)
The design of these LG Tone Free TF7Q is… peculiar. They are designed to adapt perfectly to our ear, and for this they opt for small upper hooks that lock them in the auditory pavilion. Nothing to do with the old hooks that literally grabbed our ear from the outside. These simply fit into the ear.
These helix-shaped hooks have perforations to prevent moisture from concentrating, a very well thought-out point in sports headphones. You have to rotate them until they adapt to the shape of our ear. Once blocked, they do not move no matter how sudden we make movements.
They are fairly light headphones, weighing six grams. They come with various sizes of silicone tips and the body itself is small and compact. In my particular case, even trying the different sizes of pads, I have come to feel some pressure after a few hours of use. I can already tell you that they sound so good that I didn't care much , but the annoyance was there.
However, the protagonist is not the headset itself in design, but the case. He is a case that overflows with personality, with a rough finish that convinces both ergonomically and visually, and that easily repels fingerprints. Going for a rather sober gray, together with the rough finish and the perfectly centered TONE logo, give these headphones a rather premium aura.
This box has two LEDs on the front. The first is the power indicator (red when less than 20%, yellow between 20 and 80%, green when more than 80%), and a second connection indicator. In addition, they stand out for not having any type of side button . If we have a connection problem, it will be enough to touch the earpiece (something that we will talk about later).
The case has built-in ultraviolet light self-cleaning technology. According to LG, this UVnano technology kills 99.9% of bacteria in just 10 minutes. If we go to the fine print, LG's tests allude to the pneumonia bacteria Escherichia coli, Staphylococcus aureus and Klebsiella.
When we open the box, we see a blue light for purely aesthetic purposes . The UV LED light is invisible to the human eye, and is only activated when we close the box. In other words, we won't be able to see any type of LED light killing bacteria , for obvious reasons. If, in addition, we want to leave them even cleaner, these headphones can be washed with water, being resistant through the IPX7 protocol.
User experience: bravo, LG
Making the same app for iOS and Android is the most logical move when a headset intends to work on both operating systems. For some reason this is unusual . In the case of LG, they have done their homework, and the app is simply brilliant. We were surprised by its 1.6 star rating on the App Store. Most of the unfavorable comments allude to poor performance of the app (hangs, frozen lock screen, etc.). We haven't had a single one of these issues in just over a month of use with these headphones.
As soon as you open it, it will ask for Bluetooth permission. We open the box, connect the headphones in the Bluetooth settings and that's it. In the event that they do not connect, just press the body of the earphone for a few seconds . The LED starts flashing and they connect quickly.
When we open the app, we find a small user manual that teaches us how to put them on, how the UV wash works or how the gestures work, namely the following:
Press once: answer calls / pause or resume music.

Double press: end calls / control volume.

Press three times: next song.

Long press: switch noise canceling mode
In addition to being able to configure these gestures to taste, we have different equalization modes signed by LG and Meridian. We have found ourselves more than comfortable with the default mode: bast boost . In the sound quality section we will talk about how this mode behaves, although we already anticipate that it is spectacular.
Another bright spot is LG's own multi-pairing system , a wonder we'd like to see in all headphones. Through this system, we can connect our headphones to other mobiles, computers, consoles, PCs, etc. With just one touch, we can switch between devices .
This function is ideal for leaving the headphones linked to all our devices and, when we want to listen to the content on any of them, all we have to do is select them in the app. The devices are saved in the multi-pairing interface, so there is no need to pair anything again.
Sound Quality: This is serious (and that's great)
The sound quality of these headphones is above expectations. So much so that they don't look like sports headphones at all. The excellent work with the bass is powerfully striking, one of the weak points that are usually found in headphones that do not exceed 180 euros. The equalization is excellent and, if we are not convinced, we can either switch between LG's default modes or manually adjust each frequency.
The diaphragm is 6mm and we have used the headphones mainly with iOS, so they work with the AAC that Apple usually uses. We have tested them with Spotify in original quality (320 kbit/s OGG Vorbis quality), and as we anticipated, we couldn't be more satisfied.
The sound quality is brilliant, although the sound from the internal microphones for calls does not reach that high level
If we talk about video calls and calls, the microphone has an average quality . We will have the characteristic metallic and somewhat high-pitched headphone sound, although it is not as exaggerated as some of the rivals we have tested in this price range. It will not become annoying for our interlocutor, although we always miss a little more ambition at this point.
Noise cancellation: OK, but work ahead
As for noise cancellation, we have missed a little more isolation. We've been able to test these headphones on a couple of flights, and it was pretty easy to hear turbine noise . The noise cancellation has reminded us more of headphones that are around 100 euros than of ones that, at least at their starting price, were close to 200 euros.
We have the classic "transparency mode", here called "ambient sound". The software configuration is great, but a little more isolation would have been the cherry on top
We have an active noise cancellation mode, the option to turn it off and an "ambient sound" option that allows two modes: listening mode and conversation mode. The listening mode allows us to listen to the ambient noise of cars, traffic lights and other elements that the headphones consider relevant, despite the fact that the ANC is active. Talk mode allows us to hear voices more clearly, even though ANC is working.
Jabra Evolve2 Buds Review – Business TWS With Many Comfort Features & Hi-Fi Sound | Tech Reviews
Both modes work quite well and manage to distinguish the different sounds. The operation of the software is excellent, although the main weak point is that lack of isolation that, in some situations
Battery: More than enough to get you through the day
LG promises up to 10 hours of use with these headphones. Perhaps without active noise cancellation and below 50% this figure can be achieved, but this has not been our case. In real use we have been closer to 5:30 a.m. of use, with the volume between 70 and 80%, always with active noise cancellation.
Being sports cut headphones, it is a more than adequate autonomy to accompany us during a race, a long gym session or a good bicycle route. Regarding charging times, we are talking about two hours to fully charge the case. This offers an additional 14 hours of charge to the headphones , so we will have to charge it very infrequently, unless we make quite intense use of them.
LG Tone Free TF7Q, Fadvices opinion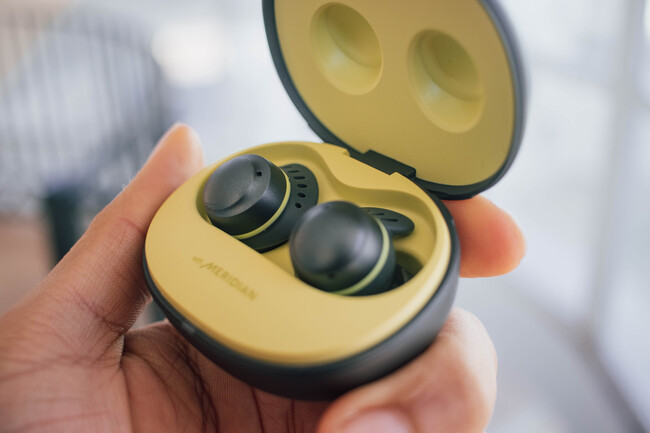 The LG Tone Free TF7Q have convinced us. They went on the market for 179 euros, but we can currently get them for about 140. The sound quality is so good that I recommend them over other non-sports TWS of a similar price. It is true that, at the design level, they are quite peculiar, but the general balance they have for this price is impressive.
They are well finished, the case is one of the best in its segment (besides the additional point that they promise to clean all bacteria), the application is excellent and the sound quality is very good. The behavior of the battery can be improved if we always use them with ANC, but it is not dramatic.
If you are looking for cheap, small, comfortable headphones for sports, with good battery life and excellent sound quality, they are one of the best alternatives we have tested this year.