Sweeping year after year as the best convertible laptop, it is not a coincidence. The Microsoft Surface Pro has established itself as the quintessential convertible device and hasn't been overshadowed for years.
The new Microsoft Surface Pro 9 maintains its essence with the necessary update of its interior with the clear objective that no other convertible laptop coughs. They know the formula by heart. We have verified it in our analysis .
Technical sheet of the Microsoft Surface Pro 9
MICROSOFT SURFACE PRO 9

SCREEN

13″ PixelSense 3:2
2.880 x 1.920 px (267ppp)
120 Hz
Touchscreen, Dolby Vision IQ
Gorilla Glass 5

PROCESSOR

Intel Core 12th gen
i5-1235U / i7-1255U

MEMORY

8 / 16 / 32 GB LPDDR5

GRAPHICS

Intel Iris Xe

STORAGE

128 / 256 / 512 GB




1TB

CONNECTIVITY

WiFi 6E, BT 5.1




Version with 5G (ARM)

PORTS

2 x USB-C 4.0,  Surface Connect

SOUND

2 x 2W Dolby Atmos

BATTERY

Load 60W

CAMERAS

Rear: 10MP, 4K video




Front: 1080p video

DIMENSIONS

287 x 208 x 9.3 mm

WEIGHT

879 grams

OPERATING SYSTEM

Windows 11 Home
PRICE

From 1299 euros
Recognizable no matter where you look at it
More or less stylized, with changes in connectivity and even adding details that improve with the generations… none of this has changed one iota that Microsoft's Surface Pro is perfectly recognizable year after year.
The new Microsoft Surface Pro 9 maintains its iconic design based on the flap that acts as a stand and the keyboard so personal. This year we have had to analyze the version with a Forest tone, a slightly metallic olive green that feels scary to this convertible.
The Microsoft Surface Pro 9 is once again an example of finish, design and good work at the hardware level within the convertible laptop sector
In dimensions, the Surface Pro 9 keeps its weight below 900 grams and a thickness that barely exceeds 9 mm. In hand it is still a premium product that is very pleasant to the touch, although the smoother edges, not as straight as previous generations, have given me a certain feeling of insecurity when holding the device due to its tendency to slip.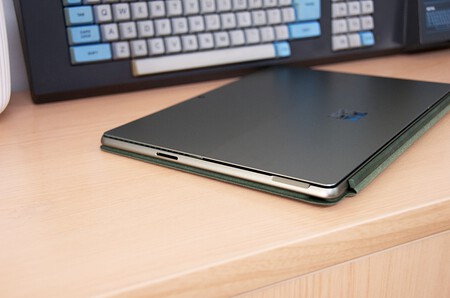 The folding and adjustable stand at any angle (from 10 to practically 180 degrees) works perfectly. It opens very easily and gives the convertible great flexibility of use.
Biometric identification is completely based on the use of our face with Windows Hello. It works fine, and we don't miss a fingerprint reader on the power button, located on the edge of the top bezel (assuming the normal orientation with the Surface Pro 9 is landscape mode) along with the volume controls. The fact that the convertible is used most of the time in backward format has this advantage, making it difficult to block the identification camera for Windows Hello .
The connectivity of the Surface Pro 9 is very fair. There is no headphone port and we only have two USB-C
The rest of the connectivity is reduced to the two USB-C ports (USB 4.0/ Thunderbolt 4) on the left side, the Surface Connect port on the other side and finally the port for the company's official keyboard case. There's no headphone port or any extras like a memory card slot, which wouldn't go amiss. Also, if you still have USB-A peripherals at home or work, you will have to resort to adapters.
The model we have reviewed includes Wi-Fi 6E and Bluetooth 5.1 connectivity. 5G connectivity is exclusive to the ARM version.
Big screen for everything we want
The screen of the Surface Pro 9 is 13 inches , protected with Gorilla Glass 5. It is a PixelSense Flow with a resolution of 2880×1920 (267 dpi more than enough to consume content and work comfortably) and with a refresh rate of 120 Hz , something that is Thank you very much in this type of format.
It has an aspect ratio of 3:2 , which makes it clear that its priority is not leisure or content consumption, but productivity.
The panel, of the IPS type, does not overwhelm at first glance like AMOLED screens, but its good lamination, the 1200:1 contrast and a high brightness of more than 450 nits give it a very high average. It is also quite accurate. It is of course tactile with excellent response both to our fingers and to the stylus that has also been synonymous with Surface for years.
The stylus, which is included with the Signature Keyboard, maintains the flattened design that allows you to have a cute space on the keyboard itself that also serves as a charging point. But for drawing and writing I find a pencil with a more traditional shape much more comfortable. In addition, the keyboard and pen combo continues to have a price that raises the overall price of the product and makes it less competitive when it comes to being convinced by this Surface Pro 9 instead of an ultraportable to use.
The keyboard, which continues to be sold separately, is essential for the experience and that it was included as standard would bring the product closer to more users without surprises in between
From the keyboard , nothing remarkable. It continues to maintain the Alcantara fabric finish, very attractive both to the eye and to the touch, and it is very comfortable to write, with a good run and feedback, although I miss that the sound is somewhat lower . Also the trackpad, somewhat reduced in size, maintains the type.
The Surface Pro 9 rightly doesn't neglect something as essential as the webcam. Here we see more influence from high-end tablets than from laptops, and Microsoft opts for a front camera with 1080p video that performs excellently in very different light situations, in addition to enjoying good accompaniment from the two microphones.
Regarding the rear camera, it is 10 MP with autofocus and capable of recording 4K video. It saves us for supporting photos and videos but little else.
It is a joy to see that both sound and especially the quality of the webcam collect more points from the tablet sector than from classic laptops, where no attention is paid to them.
As for the sound , the Microsoft Surface Pro 9 also drinks a lot from the tablet market, although it does not reach the levels of the best on the market. Here we have two 2 W stereo speakers that have the push of Dolby Atmos sound.
An enhanced interior (and with great novelty)
Beyond slight exterior tweaks, the great novelty of the Microsoft Surface Pro 9 we have to look for inside. There is room for 12th generation Intel processors .
Microsoft gives the possibility of configuring its convertible in a more ambitious way than in the first generations and the starting model has an Intel Evo Core i5-1235U, there is also the option to improve with a Core i7-1255U and, if we dare Let's get started on the path of the Surface Pro with ARM (SQ3).
Microsoft's new Surface Pro 9 starts at a higher price but in return offers more powerful configurations
Depending on the processor we choose, we can opt for one amount or another of RAM and storage. The most discreet model, with Core i5, can only be paired with 256 GB internal memory and 8 or 16 GB of RAM, which in this generation makes the leap to LPDDR5 . If we opt for the Core i7 model, we can already choose between 16 or 32 GB of RAM as well as internal memory of up to 1 TB.
The model that we have analyzed is the most basic (and affordable), with those already mentioned 8 GB of RAM and a 256 GB SSD that behaves correctly but is not successful, as we can see in the CrystaldiskMark test:
The new processors in the Surface Pro 9 elevate its performance similar to that of a laptop in use, as it has always aspired to be. We'll see what this means for its battery, key in a convertible of this type.
In the Cinebench R23 test, the new Surface Pro 9 scored over 1,500 points in the single-core test, while for the Multi-Core it was over 6,300 points. In CineBench R20 the CPU test gave us a performance of 2676 points.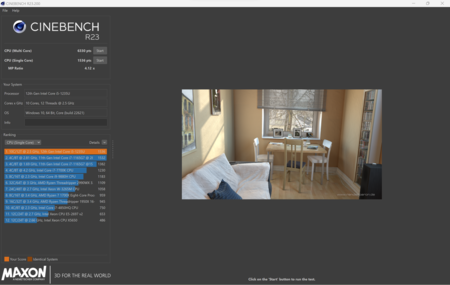 In all tests, operation is fairly quiet but not completely noise-free . In any case, the cooling is more than enough so that, with demanding tasks, the convertible can be used both in the hand and on the knees, for example.
The compact size and its convertible format should not lead to mistakes: the Surface Pro 9 is powerful like many laptops on the market
In the graphic section, it must be clear that we cannot aspire to much with integrated graphics , no matter how much they are the Iris Xe. But for the main objective of this convertible, which is none other than work and study tasks, it is more than enough. We have even really enjoyed its possibilities when it comes to editing heavy video or photos with great ease .
Somewhat diminished battery life
Although Microsoft announces more than 15 hours of battery life for its new Surface Pro 9 based on typical use of the device, the reality is far from that figure.
The greater "annual" power of the Surface Pro has a great counterpart: battery life is far from what we aspire to have in a convertible with a traveler's soul
In our tests with real tasks, from web browsing, office automation, a lot of social networks, some video and also more intensive work with photos or video, the Surface Pro 9 has averaged between 6.5 and 8 hours of battery life , depending on the day. In all the tests, the work sessions were more or less continuous, with connectivity all the time, a screen with a 120 Hz refresh rate and a brightness of slightly more than 50%.
It is without a doubt the weakest point that we have found in the Surface Pro 9, and something to take into account if you are looking for a device that will give you a margin of work for the whole day, as I think it should be in a convertible device and that is the tip of industry spear.
ASUS Zenbook Pro 17 Review : Big Beauty With Lots Of Power | Tech Reviews
For charging we have a proprietary charger in addition to the possibility of charging via USB-C.
Microsoft Surface Pro 9, the opinion of Fadvices 
When a consumer decides on a convertible computer like the new Microsoft Surface Pro 9 , there are elements that must be assumed that they are looking for yes or yes. Portability is one of them, and this Surface Pro 9 more than delivers.
If we also want it to be a work or study partner, having a generous and quality screen is another condition that cannot be negotiated. Neither does the Surface Pro 9. Neither with this section nor with that of raw power.
However, the third pillar that we associate with battery is failing. And that is not a good indication when the rivals are pressing more and more.