Netatmo Smart Carbon Monoxide Detector Review : Security Without Wires | Tech Reviews
Today we have a good handful of options to improve home security through smart devices. If we are creative enough, we can develop a good automated ecosystem that warns us of dangers and protects our own. Among these smart devices, carbon monoxide detectors are a great addition to the security of our home, and today we are talking about Netatmo's proposal .
The manufacturer has various solutions to build an intelligent and safe system at home. Its carbon monoxide detector is one of the elements that it offers within its range of security products, and we have been testing it for a while at home to tell you what we think of the Netatmo alternative and if it is worth it .
NETATMO CO DETECTOR

Type

Electrochemical carbon monoxide sensor

Compatibility

iOS, iPadOS, Android, PC and Mac

Connectivity

Wi-Fi 802.11 b/g/n (2.4 GHz)

open/WEP/WPA/WPA2-Personal

Bluetooth Low Energy (BLE)

Content in the box

carbon monoxide detector

wall mount

Two screws and two plugs

User's Guide

Battery

Integrated, up to 10 years of useful life

Ecosystem

HomeKit
Price
99.99 euros
What is a carbon monoxide detector?
As its name suggests, it is a device that measures carbon monoxide levels , sending an alert to the user when harmful levels for humans are reached. This gas is the result of combustion, and is poisonous when exposed to high levels for a long time.
In many homes, monoxide detectors coexist with smoke detectors . Although they are intended for the same purpose, their differences lie in their sensors, since, as you may have discovered, one focuses on smoke and the other on CO specifically. However, in case of fire, both can give us a good margin of time to evacuate the house.
How does a carbon monoxide detector work?
A carbon monoxide detector is not much of a mystery. You buy it, put it on the wall, and hope that the alarm never goes off during its useful life. The one from Netatmo has smart functions, that is, it can be connected to the phone so that we receive alerts. The good news is that no matter where you are, you 'll get real-time notifications when harmful levels of CO are detected . This is possible because we must have a Netatmo account to make it work, making the detector synchronize with it and receive alerts anywhere.
The Netatmo detector, and the like, feature an electrochemical carbon monoxide sensor . This means that, to detect the presence of the gas, they use a solution with electrodes that react to changes in the electrical current when they come into contact with CO. Depending on the level of the reaction, an output directly proportional to it is sent to the user.
There are several types of carbon monoxide detectors, and the vast majority depend on the environment in which they are to be installed. In addition, they measure levels in particles per million (ppm). In Spain, in accordance with Royal Decree 102/2011 , the limit value for a maximum daily average of eight hours without harming health is 10 mg/m3 (8.7 ppm). The Netatmo detector alerts us when the values ​​reach 50 ppm , which is the legal limit and a level not recommended especially for people with heart disease. It all depends on the time in which we expose ourselves to this gas.
Detector design and installation
The Netatmo CO detector has an elegant and minimalist design, surrounded by a strip of metal cells that is where the presence of this gas is detected . LED lights are located at the top of this detector. When abnormal levels of CO are reached, the red light turns on. The color changes to orange when there is a fault with the detector. If it is green, everything is working normally, indicating that it is on and operational. This light will flash every few minutes. In the center of the device is the silence button, which we can press when we want to stop the alarm.
Installation is extremely simple. We just have to press the Power button under the detector and use the guide, screws and plugs to attach it to the wall. To do this, we will have to use a drill, or take advantage of a hole in a painting, as has been the case in our case. The most efficient place for its placement is a place where gases are not directly perceived . If our house has several floors, the ideal would be to acquire a detector for each floor.
Software and operation
To check the benefits of this detector, we have brought it to the offices and we have set fire to one of the rooms. We have lit an incense stick and brought it closer to the detector. In order not to leave our ears with the experiment, we have used headphones with active noise cancellation, since the alarm beeps up to 85 dB , so if we are very close it will burst our eardrums. Then we used a fan to ventilate the room until the detector stopped beeping.
It only took a few seconds for the alarm to go off, bringing the incense as close as possible to the metal cells of the detector. After that, the notification appeared on the phone almost instantly . It must be remembered that the situation generated with the incense to verify that the alarm works is not a real example.
When performing the first installation of the detector, we will have to download the Netatmo Home + Security app and create an account. The app will automatically recognize the detector if it is turned on. The app also works with other Netatmo products, whether they are security cameras, sensors, or thermostats, among others. Also, as far as the detector is concerned, it is compatible with HomeKit , so if you have an Apple device, you can create custom routines with the other devices that you have connected to the ecosystem. Unfortunately, the detector doesn't work with either Google Home or Alexa . However, it is a detector that does not require a Hub or additional subscription services.
The app will help us to monitor the behavior of the detector. However, we do not have the option to configure almost any parameter of the detector, it will simply serve to alert us in case of excessive levels of CO. When high concentrations of carbon monoxide are detected, the detector will loop four loud beeps every few seconds and the LEDs will turn red . The app, in addition to alerting us, will give us a series of instructions: open the doors and windows, turn off the combustion devices, evacuate the place and call the emergency services. When the CO has been evacuated, we will also receive an alert on our mobile.
Netatmo also offers a web portal where we can access the monitoring of all our devices in the ecosystem . To access it, simply enter the manufacturer's website with our account and we can see how the devices work. For other Netatmo products there is also an app for Windows, macOS and Linux.
The detector also has a sound test that we can configure through the app. We can put this so that it notifies us every year , twice a year, every month, or never. Doing sound tests on detectors of this style is highly recommended, since their power depends solely and exclusively on the battery.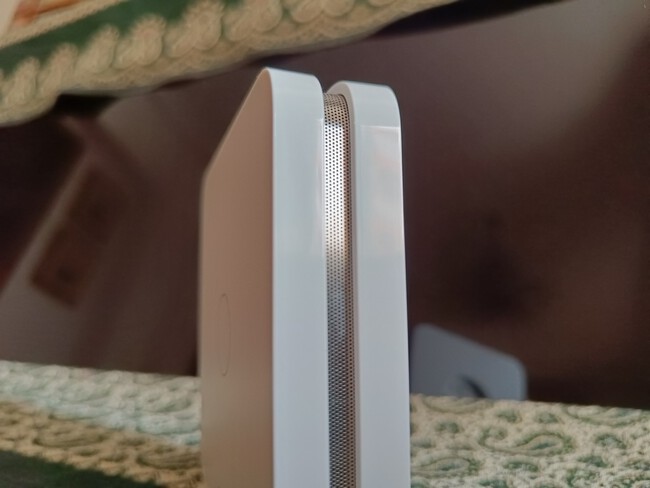 One of the highlights of this detector is that it does not depend on cables, since it is completely wireless. However, although Netatmo ensures that the battery has a range of up to 10 years, it is advisable not to trust it and change it well in advance. The main disadvantage here is that the battery is not replaceable , so if we are going to opt for this Netatmo detector, we will have to buy another one when its useful life has ended, and it is not exactly cheap.
Maono WM-821 Wireless Microphones Review : Competition Rises Fast Against RODE | Tech Review
Netatmo CO detector, Fadvices opinion
The Netatmo detector does what it offers. It is a device that will send us an alert to our mobile phone when there is a high concentration of CO in our home. In addition, it will alert us regardless of where we are, something quite useful. However, it is not the best option if what we want is to link this device with the rest of the ones we have at home through Alexa or Google Home, since it is only compatible with the HomeKit ecosystem . In addition, at the end of its useful life, we will have to replace it, since its battery is integrated and we will not be able to change it.
The device has a quite elegant design and it looks very good on the wall, it must be said. In addition, it has a system that automatically checks the status of the alarm. However, if we talk about functions for price, there are cheaper alternatives than the Netatmo proposal. The good thing is that we don't need a Hub or additional services , since its software is free and we can access it through its web version and app for mobile devices.