Oppo Find N2 Flip Review : A Master Lesson In What A Clamshell Foldable Should Be
The new OPPO Find N2 Flip has arrived with the ambition and desire to dethrone the hegemony of the king of folding phones , and also to remind us that nothing lasts forever. I have been testing OPPO's first folding proposal (Flip type) as my personal phone for quite a few days and I have to say that it has been a very rewarding experience.
A phone that is already being marketed in the West, and that, at the user level, is not very different from the folding experience that we already had in its day with Samsung's Z Flip 4 and its previous generations. But OPPO has brought a phone that is not afraid to fight with it , and that intends to be one step ahead in all sections.
OPPO Find N2 Flip technical sheet
OPPO FIND N2 FLIP

SCREEN

AMOLED 6,8″
1080 x 2540
120 Hz

External display:
AMOLED 3.26″
720 x 382

DIMENSIONS AND WEIGHT

166.2 x 75.2 x 7.45mm (unfolded)

85.5 x 75.1 x 16.02mm (folded)

191 g.

PROCESSOR

Dimensions 9000+

STORAGE

8 + 256 GB

REAR CAMERA

50 MP

8 MP Ultra gran angular

FRONTAL CAMERA

32 MP

BATTERY

4300 mAh




Fast charge 44W

OPERATING SYSTEM

Android 13
ColorOS 13

CONNECTIVITY

5G
Wi-Fi 6
Bluetooth 5.2
NFC

OTHERS

Stereo speakers




Fingerprint reader on the side
Design: A commitment to format
Like all clamshell foldables, the OPPO Find N2 Flip focuses all its appeal on its format . We have a high-end phone that is capable of reducing its unfolded size by half, making it one of the most comfortable and transportable bets that we can have in our pocket today.
From the first moment, OPPO's N2 Flip has reminded me of Samsung's Z Flip4, both in terms of format, dimensions, last name and why not say it… it even looks alike in color. And it is that if something works… why change it. But despite all the similarities that we can find between this OPPO foldable and the Samsung one, I think the N2 Flip has its own identity .
Its large exterior screen, its large camera sensors and its elegant finish are guilty of this. In hand, the love and care that OPPO has put into the construction and the chosen materials is very noticeable. The Find N2 Flip is a light and thin phone when it is unfolded and its weight of 191 grams and its thickness of 7.45mm make it very comfortable to use with one hand.
In this way, in the design section, we are quite well covered, with a phone that offers everything we could expect from the showcase of the highest range of mobile telephony.
Two screens with a lot to tell
In the first impressions of this OPPO Find N2 Flip I already spoke of the good taste in my mouth that its screens left me, and after having tested it thoroughly, I can only reaffirm my words.
First of all, we have a large external screen, with a 3'26" panel , positioning itself so far as the largest external screen that has integrated a folding clamshell on the market. Samsung, Motorola and Huawei have brought screens on the external surface of their folding proposals, but they were still small panels that helped make specific notification queries, use of a widget and little else.
OPPO has gone a step further in this exterior design, and has wanted to offer its users a more usable solution, since we can get more out of this panel size. But at the same time I must be honest to say that the use of this screen is relegated to the same as we could do before with the other folding clamshells of the competition. The difference is that now we can do it more comfortably , and having much more information on the screen.
In this sense, the OPPO Find N2 Flip allows us to perform the following functions through its external screen, without having to unfold the phone:
Check notifications and respond to them with personalized and predetermined messages.

Answer calls.

Check the time.

Consult the calendar.

Use a timer.

Quick access for the camera

Access to the control center.
But without a doubt, the most interesting use that I see for this exterior panel is to use it as a viewfinder for the main camera interface so that we can take selfies with these sensors, thus increasing the quality and detail that the camera can give us. front camera integrated into the internal panel of the N2 Flip.
Beyond this function, checking the weather status, or answering a notification is fine, but it is something that I have done more sporadically during my use with the device, since normally, I have ended up unfolding the phone to use it. in a traditional way.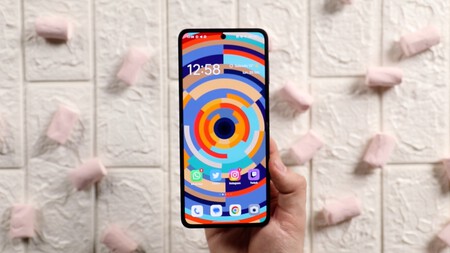 A 6.8-inch screen. That is what we find when we fully unfold the OPPO Find N2 Flip. A screen with LTPO panel with AMOLED technology, 120Hz refresh rate and a resolution of 1080 x 2540 pixels. Unfolded, we have a panel with a more vertical format than the one offered by other traditional phones, although a little wider than the one we can enjoy in Samsung's Z Flip4. This means that we have some difficulties to reach the entire screen with the thumb when we use it with one hand.
Around this screen, we find a generous plastic frame that borders the entire panel, and that protects it when we fold the device. It is a solution similar to the one Samsung has in its shell-type folding, which means that we do not have the best used screen on the market, being able to enjoy 86.48% of the front of the surface.
We are facing a very good quality screen, at the height of the high-end of telephony, perfectly capable of making us enjoy any type of content. The panel of this OPPO Find N2 Flip is very well calibrated from the factory , and the sharpness and good color treatment are two factors that have accompanied us during its use. I have had the intense color setting on the screen activated at all times, and I think it is the one that can best fit, if we are looking for a balanced experience. But if it does not convince us, we can always configure its parameters through the settings, with a default natural mode, or with a pro mode to better calibrate the configuration.
On the other hand, the brightness capacity of this screen is very grateful, varying between 500 and 1,200 nits, reaching a maximum peak of 1,600 nits . The automatic brightness adaptation works perfectly, adapting the brightness of the phone to the surrounding conditions, and fortunately I have not missed more or less brightness delivery at any time.
And what would a screen be without a sound section to accompany the experience. The OPPO Find N2 Flip's audio system is not the most complete I've tried, but it is responsive. We have a decent quality, somewhat flat, but more than enough to be able to enjoy music, calls or podcasts anytime, anywhere. The volume capacity is quite high, and the good news is that it does not distort practically anything.
The culprit that this phone can be folded, in addition to that flexible panel, is the waterdrop-type hinge that OPPO has integrated into its first clamshell foldable. It is a very similar hinge to the one that the company has used in the construction of the OPPO Find N2 , and this is good news, because the materials used in the manufacture and its integration process result in a robust and solid experience. In addition, the fold is completely complete, and ensures that the two parts adhere symmetrically.
The process of folding and unfolding the phone is very smooth and I have not had any feeling of brittleness during my experience with it . Consistency is present at all times, and we will have the option of leaving the phone folded at different angles on a surface to take advantage of the Flex Form mode, without the hinge suffering and ending up giving way.
The experience I've had with the screen crinkle hasn't changed much from my first impressions to this final review. Visually, we will notice the fold in the central part of the screen , especially when the light falls on the panel, and it is turned off. When it is activated, it will take us much more to realize that it is there. The surprising thing here is how little this wrinkle is noticeable when we run our finger over it. It's there, and it's noticeable, but the step is much less pronounced than what we might notice on Samsung's Z Flip4.
Hassle-free performance
OPPO has relied on Mediatek to integrate one of its latest processors inside the OPPO Find N2 Flip: The Dimensity 9000+ , which is combined with 8GB of RAM and 256GB of storage. And before telling you how it performs in real use tests, as always, we leave you with the results of the synthetic tests that we have carried out:
The numbers don't lie, and the Dimensity 9000+ is a very capable processor . I have used this OPPO Find N2 Flip in a normal way in my day to day, but I have also demanded a lot from it when playing video games with great graphic capabilities, taking many photos and videos, browsing the Internet and social networks, listening music and watching videos and series for hours. And his behavior has been fantastic at all times.
The lag or jerks have not been present at any time during my experience, and its power delivery is plenty. Mind you, the phone gets hot in the most demanding usage scenarios . Playing 'Asphalt 9' or 'Apex Legends' for 15 minutes already means that the increase in temperature is noticeable in the hand, especially on the surface where the camera sensors are integrated. Likewise, this factor is not worrisome and falls within normal temperatures. Also, it does not affect the behavior of the phone either.
Long live ColorOS
At the software level, this OPPO Find N2 Flip gains personality thanks to ColorOS 13 based on Android 13. OPPO's customization layer once again offers a clean experience, with little bloatware , and with a dose of customization and simplicity in equal measure . It is a stable system, well optimized, and at no time has it given me performance problems.
ColorOS adapts to the foldable condition of this OPPO phone thanks to the Flex Form mode, which is automatically activated in some applications when we leave the phone resting, half-folded, on some surface. This, for example, we can use on YouTube to see the video at the top of the screen, and the comments at the bottom.
But I think that the application that best takes advantage of this mode is the one for the camera, since it is capable of adapting its interface by dividing it in two. Above the preview, and below the control panel of the different modes and settings. Thus, we can use the phone resting on any surface to take selfies with the front camera without having to press the shutter button. This is nothing new in the clamshell market, but it can come in handy on some occasions.
Likewise, I have to tell you that the Flex Form is not a function that I have used in my day to day with the OPPO Find N2 Flip, being relegated to anecdotal use. I think that today, the folding format is a great hardware claim, but at the software level it will not change our lives, and I think this about this Oppo foldable and the rest of the foldables that I have tried so far. the date.
And, now yes. Let's talk about the camera
When I started taking photos with the OPPO Find N2 Flip camera, I had certain expectations, not only because of the 50MP sensor but also because of Hasselblad's intervention at the software level , something that we have already enjoyed in the OPPO Find X5 Pro and in the OPPO Find N2 with very good results. So, to begin with, I will tell you that the camera of this OPPO Find N2 Flip is resolute in most scenarios but it has room for improvement.
On a technical level we have that main 50MP Sony IMX 890 sensor with an f/1.8 aperture lens, which is combined with an 8MP ultra-wide-angle lens, with an f/2.2 aperture with a 112º field of view. The set is completed with a front camera, integrated into the 32MP interior screen with the Sony IMX 709 sensor.
In automatic mode, this OPPO Find N2 Flip manages to get a very good match out of the IMX 890 . In most situations, we will be able to capture good quality photos, with a good collection of lights, shadows, and colors. Hasselblad's hand in the algorithms is noticeable here. But surprisingly, the level of detail and sharpness of the images is not the best I've seen in high-end phones , and this is something that will depend a lot on the light conditions.
If the day is too clear and cloudy, the general detail drops a lot if we do not have 50MP activated by software, and the images tend to lose color, and they come out more washed out. But with sun, the camera behaves like a charm.
The ultra-wide-angle sensor somewhat hinders the good taste left by the main sensor of this OPPO Find N2 Flip. It does not add much to the experience, and the quality of the images is conspicuous by its absence when we want to take advantage of this sensor. Color is lost, focus is lost, detail is lost, and images are stretched to the sides.
On the other hand, I have loved the portrait mode , both the one that we can achieve with the main camera, and the one that we can have with the front camera of the interior screen. By software, the OPPO Find N2 Flip manages to make a very precise cutout of the subjects, and with no room for errors. The blur of these shots seemed especially beautiful to me and it is not exaggerated, so we can have very professional and eye-catching results.
When night falls it is especially noticeable that the phone lacks an optical stabilizer , and if we do not have a decent pulse, as is my case, we will result in shaky images. The same thing happens when we try to take a photo of a person in motion, or of a fountain where water is coming out. We will have the framed image, but we will not be able to save the movement on most occasions.
Despite this, at night the main sensor is quite capable of picking up the lights and Hasselblad once again does a great job of reproducing colors quite naturally. I was surprised by the level of detail in these conditions.
As a curiosity, in this section, I wanted to take advantage of the possibility of recording myself subjectively with the main sensors, using the large external screen of this phone as a preview. And surprisingly, the digital stabilizer is not activated in this mode, leaving the shot completely shaken, especially if you record yourself walking.
This has caught my attention a lot, because OPPO had a great opportunity to use it as a claim for many content creators. The fact of taking advantage of this screen as a viewfinder to make subjective videos is very attractive, but if the resulting shot is going to be very shaky, it is not worth using it. Of course, the audio is captured like a charm with this mode.
In short, the OPPO Find N2 Flip has a salvageable camera section, but it could have been much better . It is true that its folding condition attracts a lot of attention, and the possibility of taking selfies with the quality of a 50MP sensor is something that very few phones can boast of.
If this phone's camera had an optical image stabilizer, and also had a better ultra-wide-angle sensor, or perhaps with the inclusion of a telephoto lens, I think the camera proposal would be unbeatable compared to other folding ones. Fortunately, Sony's IMX 890 saves the situation in most cases, and makes the camera of this OPPO N2 Flip responsive. But as soon as we are very demanding with this section, perhaps we can fall short.
The best autonomy in a foldable clamshell
I will be clear. The OPPO Find N2 Flip has the best battery I've ever tested in a clamshell foldable . We are talking about a capacity of 4,300 mAh that is enough to withstand our demands of daily use, and that, although it can fight occasional demanding uses, it falls one step behind the 5,000 mAh that most high-end phones have.
In the tests that I have carried out with the phone, I have always reached the end of the day with a 10 or 20% battery . In active screen data, the OPPO Find N2 Flip moves between 4 or 5 and a half hours of active screen, a very interesting fact, taking into account that we do not have the greatest current capacity.
To charge this phone, Oppo offers us a 44W SuperVOOC fast charge, a most surprising fact, since the charger included in the device's box is 67W, with which we can complete the charge from 0 to 100% in an hour and 10 minutes. Both in terms of charging, battery optimization and capacity, Oppo's Find N2 Flip is able to get ahead of its competition, and this is always good news.
OPPO could not have landed on a better foot in this field
The OPPO Find N2 Flip is not the best phone of 2023, and it doesn't want to be either. But it is, in my opinion, the best clamshell folding phone to date. It complies with the clear intention of beating its competition in the shell-type folding market, and it does so with a very complete and solid proposal that exceeds in all sections what we had cataloged as standard in this market.
We have a more usable exterior screen, a good battery and fast charging, tremendous power, and a camera that, far from being perfect, solves the fact of capturing our favorite moments. If we add to all this that the starting price is 1,049 euros and that the price difference with its most direct competition is not very high, we undoubtedly have the best folding alternative in this market today.