Suunto 9 Peak Pro Review : A Smartwatch? Sports-watch Who Stands Out When Others Give Up | Tech Reviews
The slow but increasingly serious turn of native smartwatches towards the world of non-occasional sports is also generating quite a bit of movement in the segment of classic sports watches, which a few years ago began the opposite path: becoming smartwatches. .
The Suunto 9 Peak Pro is the model that right now aspires to become the reference for those looking for a sports watch of the highest level while not giving up, at least, receiving notifications and having a certain degree of continuous connectivity and measurements. smartwatch basics. We have literally thrown ourselves into the bush to be able to put it to the test as it deserves.
Suunto 9 Peak Pro data sheet
| | SUUNTO 9 PEAK PRO |
| --- | --- |
| DIMENSIONS | 43 x 43 x 10.8 mm |
| WEIGHT | 64 grams |
| BEZEL MATERIAL | Stainless steel / Titanium |
| LENS MATERIAL | sapphire crystal |
| SHELL MATERIAL | Glass fiber reinforced polyamide |
| SUBMERSIBLE | 100 metros |
| BACKLIGHT | LED |
| SCREEN | 1.2 inches, dot matrix, 240×240 pixels |
| CONNECTIVITY | Bluetooth |
| SATELLITE SYSTEMS | GPS, GLONASS, GALILEO, QZSS, BEIDOU |
| ALTIMETER | 1 meter resolution |
| ATMOSPHERIC PRESSURE | Resolution 1 hPa |
| SPORT MODES | +95 |
| PRICE | 499 euros |
Forget about the giant and heavy Suunto
Referring to a Suunto (and many other) sports watches from the most extreme series used to mean a watch of considerable size and weight until not long ago. All of that ended.
The Suunto 9 Peak Pro is one of the smartwatches with the best design and finish on the market. If not the most. Without losing any of its sporty character, its design is impregnated with elegance and an extreme taste for details.
The good taste and refinement of sports watches reaches its maximum expression in this Suunto 9 Peak Pro
The Suunto 9 Peak Pro bezel can be chosen with a stainless steel or grade 5 titanium finish. As for the lens material, it is sapphire glass , which has left us with an absolute feeling of security in the weeks that we have been putting it to the test. Finally we must talk about the casing, finished in polyamide with fiberglass reinforcement.
As a whole, the Suunto watch case is less than 11 mm thick. It is like literally not carrying anything because its weight is also only 64 grams .
The different touch to the appearance we can give it with the straps, which have a width of 22 mm and can be easily interchanged. The one that comes standard with the model that we have analyzed, we do not want to change it for anything in the world. Made of silicone, it is extremely flexible, it has not caused us any discomfort or itching and the closure of a single element seems very successful.
The combination of a very flexible silicone strap and the light weight of the watch make it look like you are not wearing Suunto 9 Peak Pro on your wrist
The Suunto 9 Peak Pro watch comes with six possible case/strap color combinations and steel or titanium finish. The price difference is about 130 euros extra for the titanium version.
Under the elegant appearance there is a lot of work to endow it with military resistance (operating between -20 and 55 degrees Celsius), in addition to being submersible up to 100 meters , although with a depth gauge for freediving of only 10 meters.
In the design of the watch we only have three physical buttons , all of them placed on the right side of the bezel. They have a perfect finish, touch and travel, even with some sonic feedback. Later we will delve into how we move thanks to these buttons through the Suunto watch interface.
On the screen is the key to everything
Around the screen, especially if coming from the world of the classic smartwatch, the Suunto 9 Peak Pro screen quickly becomes the weakest section. The main drawback is that the diagonal is only 1.2 inches and there is a generous frame around it that we believe is wasted. Having more space for data is always an interesting option in a sports watch.
The screen is of the matrix type and with a resolution of 240×240 pixels , more than enough for the clock interface. It comes with an LED backlight that adjusts according to the ambient light.
In such an ambitious high-end model, we expected a slightly larger screen diagonal
Beyond the size, the Suunto 9 Peak Pro screen fulfills its mission well, especially outdoors, where direct light is what suits it best.
Whether indoors or on a day-to-day basis, the difference with consumer smartwatch panels is immediately apparent, especially in the color, which somewhat disappoints compared to the brand's renders .
The Suunto 9 Peak Pro interface is managed with the combination of both the physical buttons and the screen, which is tactile . In any case, and this is a great success for "extreme" watches, everything related to menus and activities can be controlled exclusively with the buttons, something that is appreciated if we wear gloves or it is raining, for example.
Although the screen is tactile and very precise, the Suunto 9 Peak Pro can be fully managed with some magnificent physical buttons
The upper and lower buttons usually act as elements to scroll through the options, while the central button is the main "ENTER" if we press it normally at the same time as the "ESC" (go back) when we keep it pressed.
Something that I have not quite liked is that, although the watch responds well when we turn our wrist to light up, what does not happen is the activation of it to interact directly with the screen and we must first press one of the physical buttons.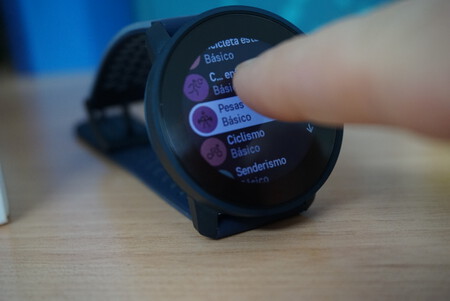 For the rest, moving with more agility or not through the interface only depends on what we know about the brand. The learning curve is quite short and we quickly assimilate that we go down to the clock options, to the left to the predefined screens and at the top we have the sports modes.
The Suunto 9 Peak Pro as a smartwatch: don't expect too much
Although Suunto 7 took a step towards the world of smartwatches with WearOS , this Suunto 9 Peak Pro is clearly on the side of born sports watches. Serve as a clear example that you don't waste too much time in the spheres, where we have just a few to choose from and all of them are very basic and focused on their own.
In standby by default we have information about the time, date and an area where by touching the screen we can switch between steps, remaining battery, altitude and activity time of the day.
As a daily watch or smartwatch, this Suunto 9 Peak Pro meets the minimum that we can demand of almost any current sports watch, even from much lower ranges. Thus, we have step count, calories burned, continuous heart rate, sleep or oxygen saturation.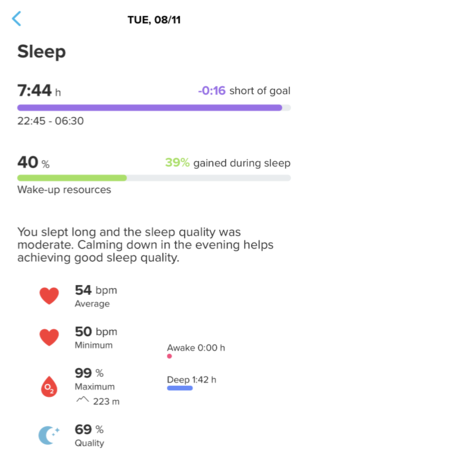 In some measures, such as steps or sleep monitoring, we have a screen with the history of the last 7 days , but it is always much better to enjoy this orgy of data on the wide screen of our smartphone, taking advantage of the very good Suunto application .
As extras we can mention music control and of course notifications from our mobile phone if we have decided so. In this last field, do not expect more than very specific information and a mediocre display of it.
In the Suunto 9 Peak Pro watch itself we have a lot of information but it is always better to enjoy the data in the Suunto app, one of the best in the sector
As pseudo applications included in Suunto 9 Peak Pro, we also have screens to see data provided by the barometer, such as altitude and atmospheric pressure, as well as information that is very fashionable in smartwatches such as stress levels or fitness. Suunto considers them Clock Widgets, and we can customize on the screen which ones to see and which ones to keep hidden from the clock interface.
A clear advantage of the Suunto 9 Peak Pro compared to other sports watches with smartwatch aspirations is its agility when moving through the options, screens and information.
The new processor of the Suunto 9 Peak Pro provides full fluidity as a sports watch but also as a Smartwatch
The most powerful processor that mounts the new Suunto 9 Peak Pro is appreciated from the moment we start playing with it, offering total fluidity and within the reach of very few sports watches.
This is especially appreciated in what Suunto considers almost watch apps but are not really as such. They are rather connections with third-party services , such as Strava or Komoot, and that add features such as track transfer. There are also specific training and test guides (Cooper, FTP, threshold test…) that help us, as well as being able to configure and manage our own training or schedules.
The Suunto 9 Peak Pro in its habitat: nature (or city)
Although the Suunto 9 Peak Pro gives us a very basic appetizer as a smartwatch, getting fully into its functionality as a sports watch (its true reason for being and market niche) makes it clear why it should be one of the market references .
Xiaomi Smart Band 7 Pro Review : Being Bigger Is Good, But Not Necessarily Better | Tech Reviews
From the outset we have a lot of sports with which the Suunto 9 Peak Pro wants to accompany us by collecting data with predefined settings. In total there are 95 sports or activities that we have in the interface, and it will be strange if you do not find the one you are looking for. Each of these activities or sports have their predefined screens with the information that they consider important that we can see while we carry out the activity.
In the Suunto app we can create new "sports" or activities where we can customize the data screens we want to have when exercising
This very personal aspect does not allow modification in the predefined modes, but Suunto does allow us to create new sports or activities in which we can personally choose what data or metrics we want to see on each of the screens that we assign to said sport.
When we have already decided to measure an activity with the Suunto 9 Peak Pro, we have a previous screen where we can adjust certain operating modes . Almost nothing is out of our control and taking time to learn about the options will greatly improve our experience with the Finnish watch.
For example, we can decide if we want to follow a track in the activity, if we are going to include a SuuntoPlus app, do work in a certain intensity zone, set a goal (for example, duration or distance when hiking or running), activate the light background, autolap, GPS or heart rate measurement, as well as interval training , multimedia controls or automatic pause. The latter, by the way, is so accurate that in certain activities such as hiking, we pause the recording of the session with excessive zeal.
Extending our activity to infinity and beyond
Of all those options that we can customize when we are going to record an activity, the most decisive is the battery . In fact, it is one of the keys to this new Suunto 9 Peak Pro.
Battery modes can be Performance, Endurance, Tour, or Custom. In the first three, it tells you which sensors and watch options are active during the activity, and with this it estimates the expected battery life.
In the Custom mode we can determine how we want the accuracy of the GPS (maximum or good), active screen time each time we touch a button and if the panel is touch or not.
Properly configuring these values ​​is the key to maximizing the battery of the new Suunto 9 Peak Pro, one of whose novelties is precisely its battery.
In basic smartwatch mode we could reach three weeks of battery life . We have not been able to spend almost a month without doing anything other than wearing the watch with notifications, but we carried out tests of several days of leisure without activities and the battery percentage was barely reduced, so those 21 days that the brand announces are perfectly feasible.
But this figure of about 20 days is a somewhat absurd measure for a watch of these characteristics. If we have gotten a Suunto 9 Peak Pro, sooner or later we will record activities and in this way the battery cannot logically be stretched so much.
With the most precise GPS mode, the brand estimates about 40 hours of continuous activity and these are data that are close to what we have been able to verify in our activities during the Suunto watch test, always depending on the chosen sport.
The Suunto 9 Peak Pro allows more than ten days of battery life, each of them recording activities of around 2-3 hours
The feeling of being able to carry out activities lasting a couple of hours every day and being able to spend more than a week without charging the watch as we have been able to do is a real joy. And by adjusting the battery modes, we can go much further if, for example, we do not need continuous heart rate data, the screen on or bluetooth.
An example: with 25% remaining battery we could perform a trail running output of up to 9 hours using the GPS performance mode. And in Tour mode, with low precision and recording data every 30 minutes, that would be more than 90 hours . It makes little sense but that this possibility exists is always welcome. That battery life always depends on the sport. That same 25% would give us to record more than 30 hours of strength training.
Huawei Watch GT Runner Review : These Are The Pros And Cons | Tech Reviews
And when it's time to charge, in just one hour we already have the watch fully charged. Or if we are in a hurry, with five minutes of charging we can already run a race of about 4-5 hours .
For charging the Suunto 9 Peak Pro we have a proprietary charger that is magnetically attached to the back of the watch and with which it is impossible for it to be misaligned for charging. The magnet system works perfectly.
GPS and heart rate monitor accuracy
The excellent performance of the Suunto 9 Peak Pro with battery is well supported by the two main sensors of the watch: heart rate and GPS.
For the first measurement, as well as oxygen saturation (SpO2), Suunto 9 Peak Pro has an optical sensor at the bottom of its case. Its operation is precise and reliable. In training with long sleeves that sometimes got in the way of the pulsed light from the sensor or an arm with a lot of hair (although not very dark), there have been no serious failures. No unjustified data loss either.
The question of whether the Suunto 9 Peak Pro would answer the challenge of sports watches with a multi-band system was quickly settled in our field tests.
Compared with a Polar chest sensor, the measurements have been correct, also responding well to rapid changes in frequency , something key in some types of training.
Regarding the GPS, we were surprised at the outset that a watch of this range did not opt ​​for a Dual Band GPS. But this new Suunto 9 Peak Pro takes advantage of Sony's renewed GPS sensor that by default uses all five positioning systems at the same time : GPS, Galileo, GLONASS, BeiDou and QZSS.
In the tracks recorded by Suunto 9 Peak Pro, both in the city with buildings of around 3-4 heights and outdoors in mixed environments, the precision of its positioning has not disappointed us, although we are eager to see what its result would be. resorting to a Multi-Band system. And we have also been very surprised with the signal acquisition speed, just a few seconds from when we start the activity to be recorded.
As an extra note, in our tests, the Suunto 9 Peak Pro tended to give a little more cumulative elevation gain in all the sports we tested, from cycling to running or hiking, but with a margin of less than 50 meters per 800 cumulative.
Suunto 9 Peak Pro, Fadvices opinion and note
The distance that still separates the world of sports watches from that of smartwatches is considerable. There are important attempts like the recent Suunto 7 in one direction, or the more recent Apple Watch Ultra in the opposite direction (from smartwatch to purest sports watch). But there are still determining factors that do not allow a perfect mix.
The Suunto 9 Peak Pro reaffirms its role as a reference sports watch in terms of performance and possibilities, reinforcing two key aspects in its fight against smartwatches: power to execute actions and battery. This second element is where it stands out above all else and puts any smartwatch that wants to overshadow it in its place.