Vivo X80 Lite Review : Defining The Balance In The Mid-Range | Tech Reviews
The Vivo X80 and X80 Pro are the latest members of Vivo's highest range. However, they have a little brother like the Vivo X80 Lite . And yes, we have thoroughly tested it.
The Vivo X80 Lite is a mid-range smartphone that has a lot to say . And despite the fact that its availability in Spain is relegated to an operator, we think it's interesting to tell you what our conclusions have been after several weeks of use.
Vivo X80 Lite 5G data sheet
VIVO X80 LITE

SCREEN

AMOLED 6,44″
Full HD+
90 Hz

DIMENSIONS AND WEIGHT

159,20 x 74,20 x 7,79 mm
186 g.

PROCESSOR

Dimensity 900

RAM
8 GB

STORAGE

256 GB




MicroSD up to 1 TB

FRONT CAMERA

50MP f/2.0

REAR CAMERA

64 MP f/1.79 OIS
8 MP f/2.2 UGA
2 MP f/2.4 macro

BATTERY

4,500 mAh




44W fast charge

OPERATING SYSTEM

Android 12




FunTouch OS 12

CONNECTIVITY

Wi-Fi ac
Bluetooth 5.2
NFC
USB-C

OTHERS

Fingerprint reader under the screen

PRICE

240 euros (30 installments of 8 euros) in Orange
A high-end trompe l'oeil, with a good screen… And with headphones included!
The Vivo X80 Lite is a phone that, without being compact, is very comfortable in the hand . It takes a bit to get to all of its parts if you have a small hand, but it doesn't feel heavy in the hand and it's not slippery either. And this is the same both naked and with its transparent cover included in the box. The unit that we have received is gold in color, but in Spain it is marketed through Orange in black (or as Vivo calls it, 'Diamond Black').
To the touch it gives a certain sensation of roughness that is not unpleasant, although it is noticeable that it is made of plastic and not with premium materials reserved for the highest range. Although its aesthetics are attractive and, at least in my purely personal opinion, not even its prominent rear camera module detracts from it. What's more, in appearance it could be said that it can cast as a high-end.
It has an AMOLED panel, with FullHD+ resolution and 90 Hz refresh rate, so we started knowing that the screen is one of its strong points . In practice, it has fulfilled and a lot of photographic and video content is enjoyed thanks to its good color balance and having an automatic brightness adjustment that adapts perfectly to each situation and at the exact moment.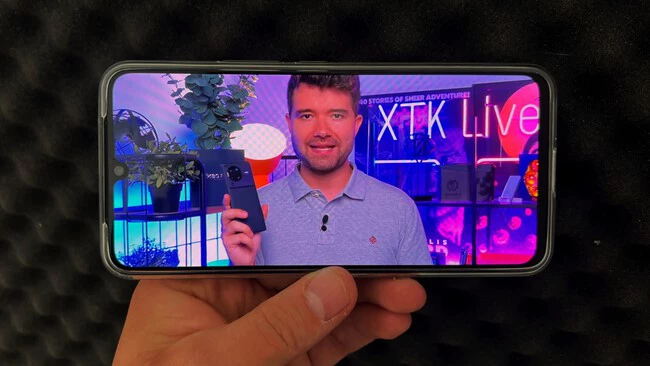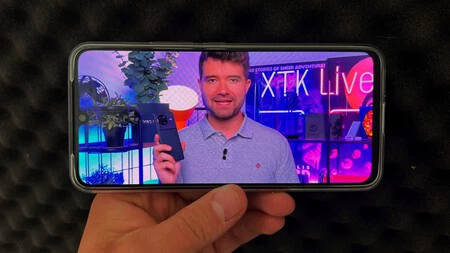 As for sound, we find a single speaker, something more typical of the cheapest terminals. Without a stereo sensation, the experience is much worse, although we must say that this single speaker is not bad either, since it is very clear and with hardly any distortion at high volumes. The good (very good) news is that it comes with wired headphones , something that little by little is being lost even in these ranges and that is a great incentive to counteract the absence of double speakers.
It embraces the Dimensity 900 to give a very good performance
After having tested several terminals with a Mediatek Dimensity 900 , we predicted that the performance section was also good. And it is. The good harmony of the chip with the terminal is noticeable in several sections , from the habitual use of messaging applications, social networks to navigation through the system and games.
We have precisely tested some of the most graphically demanding video games and, although the graphic section is cut in some, it can support high-level graphics normally . It is not that it does it without ruffling its hair, since certain jerks are noticeable and the charge is not as fast as it can be in high ranges, but it holds them and without getting too hot.
As far as biometrics are concerned, it has both facial and fingerprint recognition. The first one works relatively well, although in low light conditions it suffers, since it does not have 3D sensors and it is all recognition via software with the camera. The fingerprint reader passes by the hairs .
Perhaps this is a very personal appreciation, but I usually prefer a reader on the side in these ranges due to its immediacy compared to one on the screen, no matter how comfortable it is. In this case you can notice something slow at times, but it is not too common and it is not a drama to wait a second either.
At the moment, this X80 Lite is not among the Vivo phones that will receive Android 13 from Funtouch OS 13. However, the Funtouch OS 12 layer that it carries is quite successful . Although it comes with bloatware in the form of pre-installed apps, it doesn't feel overloaded, it maintains customization elements typical of Android 12 and provides a minimalist style that also makes it very intuitive to use.
Regarding battery life, it has a 4,500 mAh battery that aims to be inferior to other mobiles in this range. However, it more than reaches an intense day of use with more than 10 hours of screen time . On days of normal use, with 5 hours of screen time and undemanding apps, you can reach 40-50% at night without breaking a sweat. With one day using GPS apps, video consumption, casual games and social networks, we reached those 10 hours of screen time and it came with 13%.
Its charging times are somewhat slow with the adapter that is included in the box. Although it is not a drama either and in about an hour and a half it has been loaded to 100%, leaving these intermediate data:
5 minutes: 6%
15 minutes: 19%
30 minutes: 37%
40 minutes: 48%
50 minutes: 58%
1 hour: 70%
1 hour and 15 minutes: 84%
1 hour and 30 minutes: 98%
Total (0-100%): 1 hour and 33 minutes
Very successful cameras and very striking selfies
We enter the photographic field and it is worth starting by talking about the camera interface, which does not expect big surprises with the main photo and video modalities at hand and highlighting a section for video blogs , adapting the interface to the recording of short video clips . In the 'More' section, in addition to the maximum resolution photo mode and others, we find the 'Dual View' option for photographs in the purest BeReal style .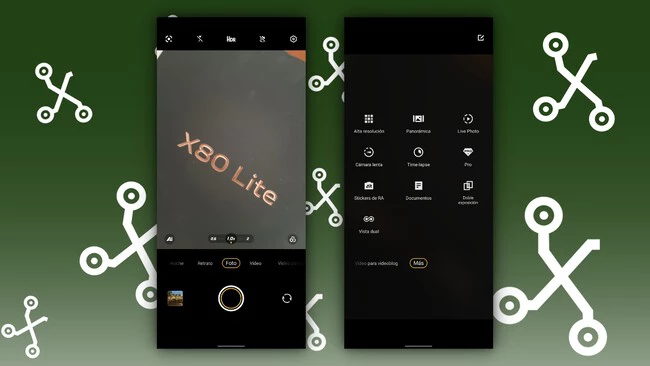 If we are already talking about results, we must say that this Vivo X80 Lite complies in most situations . Being a mid-range, it suffers a little more in adverse situations such as low light or being backlit. However, in acceptable conditions (they don't have to be perfect) it performs remarkably.
These photographs serve perfectly to illustrate what we discussed earlier. Complicated conditions on a rainy evening in which there was hardly any light. As seen in the enlarged parts, detail is easily lost and the brick of the buildings is barely distinguishable. The sides, especially in the wide angle, are too lacking in sharpness.
Realme C33 Review : There Is Still Room For Surprises In Cheap Mobiles | Tech Reviews
However, as positive points we can say that it has captured the light of the scene quite well . It is not that they are the brightest images in the world, but with just a few thousandths of a second of exposure, it has managed to pick up what little light there was and shows a fairly realistic color balance.
Things change when we find ourselves in more favorable situations and especially in the main camera. The color balance and the luminosity are still excellent, but above all its improvement in the capture of detail and sharpness of the photograph stands out. It's still not perfect, as it continues to lose sharpness on the sides, but it offers a pretty good overall result.
However, the wide-angle camera shows blue-green tints that are completely out of step with the reality of the scene. The level of detail that it captures continues to leave much to be desired, the sides are also left with some noise and ends up leaving a strange taste in our mouths when we feel that in a certain way the photo taken in adverse conditions has looked better.
We also tested the maximum resolution mode (64 megapixels) and observed that it meets exactly what was expected, providing greater quality of details when enlarging and even greater brightness. However, once again we appreciate that megapixels are not everything and in view of these results, it is not such a big difference as to make it worthwhile to always take photos in this resolution. And more if we take into account that it takes about 10 seconds to process and that they take up more space in the phone's memory.
With the previous image we can say that, without a doubt, the front camera is one of the great surprises of this Vivo X80 Lite. It is not perfect, but it is not common to find mid-range mobiles whose selfies manage to capture such a good level of detail and with such a good balance of colour, brightness and sharpness.
With the night already making an appearance, the detail of the photograph suffers a lot without activating the night mode . It is enough to look at the previous photograph to verify that, although the colors it shows do justice to the scene, the noise wins the game.
As expected, the brightness improves considerably when entering the camera's night mode. Although there is too much warmth in the scene and a sky that is too clear, the truth is that it greatly improves sharpness and it is surprising that the camera does not go crazy with the lights of the street lamps and we see beams of light on them, something typical in this modality even in high-end mobiles.
The good and beautiful thing about the front camera fades when the light falls and it is surprising that it takes better selfies without night mode than with it activated. We refer to the tests when we see how the photograph on the left uses enough white light to take a photograph that, although noisy, shows good color. The one on the right is the result of activating the night mode and its consequent increase in exposure time, leaving the image completely burned.
We went to the always interesting portrait mode and decided to complicate things a bit by taking a picture of a four-legged gentleman. As can be seen in the previous example, it is not suitable for pets , since he does not quite accurately interpret his body and tends to blur part of his hair as if it were the background. However, if we look only at the head, the result is not bad at all.
In that eagerness to want to make things difficult in portrait mode, a server decided not to comb his hair and the shortcomings were indeed noticed. The hair was the main problem and we see how it is out of focus in the enlarged part. However, the rest is interpreted like a charm and continues to stand out for the level of detail as in normal selfies.
Xiaomi 12T Review : When You Expect A Better Phone, And They Give You A "different" One | Tech Reviews
Worth noting is that both the front and rear portraits admit the possibility of increasing or decreasing the bokeh effect . This is a functionality that many terminals already have, but not all and less in the mid-range. In addition, it allows you to change it both before taking the picture and after.
Thus, we can conclude that this Vivo X80 Lite is a very good photographic proposal to accompany us on a day-to-day basis. Without being a high-end mobile and much less a compact camera, it does well in most areas, especially its selfie camera stands out and with a wide angle that, except for specific cases, tends to be the weakest part of the terminal in this regard. .
Vivo X80 Lite: The opinion of Fadvices
After analyzing this phone for several weeks, we can give a good account that it is a very interesting purchase option for those who are looking for a relatively cheap phone, which performs well in multiple fields, who like to take good photos (especially selfies) and who also continue to appreciate added values ​​such as including a cover and even wired headphones.
However, being a mobile exclusive to one operator can play against you . Vivo's strategy is to reserve the small 'X 80' for Orange and, although it is very easy to pay for company customers, the truth is that it distances it from those who prefer to stay with their current operator. And personally, I think it's a real shame.