xiaomi Smart Band 7 Pro Review : Being Bigger Is Good, But Not Necessarily Better | Tech Reviews
If there is a well-known bracelet on the face of the Earth, that is the Xiaomi Smart Band, formerly known as the Mi Band (although the last name Mi is history ). As was the case last year, this year we have two models: the Smart Band 7 and the Smart Band 7 Pro , the second being a larger, more complete and significantly more expensive quantifying bracelet . She is also the protagonist of this one, her analysis.
And it is that we have been using the new Xiaomi bracelet for a long time. We have taken her during the day, during the night and during our sport sessions to see how she behaves and what she offers. So, without further ado, let's go with the analysis of the Xiaomi Smart Band 7 Pro .
Data sheet of the Xiaomi Smart Band 7 Pro
XIAOMI SMART BAND 7 PRO

DIMENSIONS

44.7 × 28.8 × 11 mm.

20.5 g

SCREEN

1.64 inch AMOLED




Resolution 280 x 456 pixels

326 ppp

Up to 500 nights

STRAPS

130-205mm TPU

SENSORS

Heart rate




Blood oxygen saturation (SpO2)




Sleep




recording 3-axis accelerometer 3-axis




gyroscope

GEOPOSITIONING

Integrated GPS chip

BeiDou, GPS, GLONASS, Galileo, QZSS

WATERPROOF

5 ATM
BATTERY
235 mAh

magnetic charge

CONNECTIVITY

Bluetooth 5.2

COMPATIBILITY

iOS 10+

Android 6+

OTHERS

110 sports

female health mode

Remote control to take photos

music control

Alexa

DIMENSIONS

44.7 × 28.8 × 11 mm.

20.5 g

PRICE
99.99 euros
Design: Halfway between a bracelet and a watch
As always, we start with the aesthetic section. The first thing that stands out is that the Xiaomi Smart Band 7 Pro is halfway between a bracelet and a watch . It's not as small as aMi Dry Smart Band, but not as big as a Huawei Watch Fit either . It is in between and it is a quite correct size, especially if we are looking for a large screen but not too much.
The truth is that, at the design level, there is nothing particularly striking. The most interesting thing is that, despite its apparent size, it is not excessively thick (11 millimeters) and, furthermore, it is surprisingly light . It is a large device to the naked eye, but it weighs just over 20 grams. On the wrist it feels surprisingly good.
The wearable is divided into two parts. At the top we have a metallic-looking frame and the screen, while at the bottom we have all the space that stores the sensors and components, made of plastic. On the right edge there is a microphone (to interact with Alexa by voice), while the left one is completely flat. Curiously, there isn't a single button on the entire chassis, which, frankly, is strange to us.
At the bottom we find the heart rate sensors and the pulse oximeter , which we will use to measure our heart rate and blood oxygen level. Also, we have the pogo pins that we will use to recharge the battery, something that we will do infrequently, as we will see later.
As far as the strap is concerned, the Xiaomi Smart Band 7 Pro uses proprietary straps. What does that mean? That nothing to use standard straps of any kind . If we want to change the strap, we will have to buy a strap designed for this bracelet. The strap included in the box is made of TPU and is quite good.
It is not the most premium that we have tried, but it is soft to the touch. It is suitable for wrists between 130 and 205 millimeters, so, in principle, there should be no problem. Unlike the original Smart Band 7, the strap of this model uses a conventional buckle which, from my point of view, gives more security when making sudden movements with it.
In short, we have a larger device than the Smart Band 7, but just as comfortable . We have worn the bracelet? the watch? throughout the day, even doing sports or sleeping, and we have not had ergonomic problems of any kind. It is simply a bigger Smart Band.
Screen: A difference that is appreciated
One of the benefits of having a larger wearable is, surprise, being able to mount a larger diagonal screen. This is what happens with the Smart Band 7 Pro, which has a somewhat larger panel than its little sister . It is true that Xiaomi bracelets have grown in size over the years, but this new model takes the cake, although it may not seem like it.
Why? Because Smart Band 7 has a 1.62-inch screen while Smart Band 7 Pro has a 1.64-inch screen. On paper, the difference is minimal. Then? The key is in the aspect ratio. While the Smart Band 7 has a 2.55:1 format, the Smart Band 7 Pro has a 1.63:1 aspect ratio , meaning it is more rectangular, allowing you to see more information and do it better.
This is a welcome change. It's more comfortable reading notifications or navigating settings on a screen this size. The Smart Band 7 continues to sin in this regard and it is something that is corrected in this model.
The device incorporates an AMOLED panel under a 2.5D curved glass that, in practice, we are not going to notice. Its resolution is 280 x 456 pixels, which translates to 326 pixels per inch which, if you're familiar, is normal, since it's the same pixel density as the Smart Band 7. That's good news, since at a safe distance we will not notice the pixels.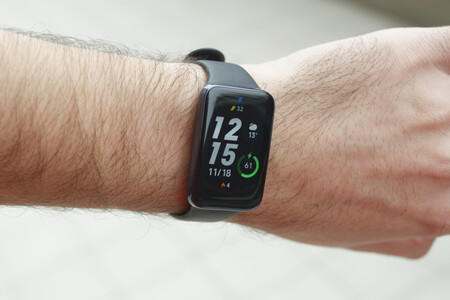 The screen looks great , in short. The maximum brightness level is high enough to see the information well in broad daylight (although now in winter there is little "broad daylight") and low enough so that it does not disturb at night. The wearable also has auto-brightness (thanks) and luckily it works well. However, we can also choose manual brightness if we wish.
Thank you Xiaomi for implementing auto brightness on the Smart Band 7 Pro
The bracelet can be woken up by making the gesture of looking at the time or by touching the screen and it turns off either after a period of time, or, if we have configured it that way, by covering the screen with the palm of the hand. Personally, I highly recommend disabling the gesture when we go to bed for obvious reasons.
Like its non-Pro sister, the Smart Band 7 Pro has an Always On mode , which allows us to see the time at all times. Here to taste of the consumer. I prefer to have the screen off for a matter of autonomy, but if you don't mind going through the charger more often, know that you can have it activated. We, for this analysis, have disabled this feature.
As far as customization is concerned, we don't think anyone will be surprised if we say that there are a huge number of skins available in the smartphone app . There are them for all tastes and colors, so it will be strange that we do not find one that we like. However, it must be borne in mind that the more elements there are on the screen, the greater the energy consumption.
Performance: A bigger Smart Band
And now that we know the bracelet on the outside, let's see how it is on the inside. The first thing, however, is to talk about compatibility. The Xiaomi Smart Band 7 Pro is compatible with iOS 10 or higher and Android 6.0 or higher, so it is surely compatible with the vast majority of mobile phones. The application that we will use to link it with the mobile is My Fitness, available for download on Google Play and the App Store .
Huawei Watch GT Runner Review : These Are The Pros And Cons | Tech Reviews
Now, My Fitness is an app… basic, too basic . One option that we have to squeeze the bracelet even more is to link it to the mobile using Zepp Life, the control app that we use with Amazfit / Zepp devices (available on iOS and Android ). It is much more complete and works better. Now, since Xiaomi recommends using Mi Fitness, we have stuck to this app since, surely, it is the one used by the vast majority of users.
Be that as it may, let's talk about performance. The bracelet has a proprietary operating system , which means that we cannot install more applications from a store. What we have is what there is, something that shouldn't take anyone by surprise. The performance is correct and the navigation through the menus is fluid. Another story is the notification screen.
When we open the notification curtain, something that we will do by sliding down, we will notice that, if we have many, the device slows down and navigation is not smooth. And speaking of notifications, it is about time that they are stacked and organized by applications , because if you receive eight messages in a row by WhatsApp, you will have eight different notifications stacked and mixed with all the others.
On the other hand, it should be noted that the Smart Band 7 Pro does not display emojis correctly (at least on iOS), it does not allow you to answer notifications or answer Bluetooth calls. In that sense, she is still just as limited as her little sister. What we do have is Alexa , which once we have configured it in the smartphone app, we can use to request information, control home automation, etc.
Among the outstanding applications that the bracelet offers us are the music control (for the music that is playing on the mobile and that is accessible from training) and the remote control of the camera, which really works as a remote shutter but that at no time allows us to see the image captured by the camera in real time. Nothing new. We still don't have NFC (at least in the international version), ergo no mobile payments.
Unfortunately, the Xiaomi Smart Band 7 Pro that we can get in Spain does not have NFC
As far as health is concerned, first of all, it should be noted that, although the sensors behave precisely, we are not dealing with a medical device. The information on the bracelet is strictly indicative, so when in doubt, it is best to see a doctor. That being said, cheers.
First of all, the Smart Band 7 Pro allows us to analyze the heart rate with a frequency of 30, ten or one minute, or automatically (higher frequency in sports, lower frequency at rest). The higher the frequency, the higher the battery consumption. The registration is precise, although not as much as other devices more focused on health. It is also possible to receive notifications when the pulsations exceed or fall below a certain frequency.
Second we have sleep , which works really well. It consumes more battery, but it is worth having it activated. Through the application we can see a breakdown of the phases, how our heart rate has changed and the evolution of the level of oxygen in the blood, as well as a score that, for now, is in beta phase.
Then we have the blood oxygen level , which we can set to be measured in real time. Now, be careful with this information, because taking an SpO2 test requires a certain amount of calm. In other words, if we are on the move, the results may not be entirely accurate.
Finally, the last metric we are concerned with is stress , which is analyzed based on heart rate variability and in real time. It is a metric that, as in other devices, does not contribute much. The only wearable that has managed to understand stress and its management well, for now, is the Fitbit Sense 2 and the price difference is more than evident.
Google Pixel Watch Review : The Foundation Has Been Laid | Tech Reviews
Play sports with the Xiaomi Smart Band 7 Pro
What is a wearable of this type without its corresponding sports section? Well, the Smart Band 7 is not exactly short. The device allows us to analyze more than 110 sports modes among which, of course, there is no paddle tennis . However, there are popular modes such as running, walking, outdoor sports, etc., as well as ten running classes with different intensities. It should also be noted its 5 ATM water resistance, suitable for swimming.
One of the novelties that arrive in this model is the integrated dual GPS chip , which was already touched. Thanks to this chip, compatible with GNSS (all the main satellite constellations), we can go for a run or walk and record the route without having to carry our phone with us. Its performance is good, especially for a wearable of this size. It takes a few seconds to fix us, but once it has, the signal is stable and relatively accurate , although there may be some deviation of several meters.
Depending on the sport that we analyze, the report will be more or less complete, but the truth is that it has nothing to do with what we see on other devices. We have repeated it several times and we repeat it again: My Fitness is a functional application, but too simple .
In the screenshots above you can see a report of a one-hour tennis session (which really is paddle tennis, but anyway) and the information available is scarce . We can see how the heart rate has varied and how much time we have spent in the zone, but little else. Information too basic for advanced users, although perhaps enough for novice users.
What we want to get to is that it is not a bracelet designed for athletes. If we are amateur runners, we want to monitor a walk or, simply, we want to start in the world of sports, perhaps starting here could be a good idea. The problem, of course, is that with the dry Smart Band 7 we get practically the same for less price.
Battery: A week of autonomy
We are getting closer to the end of this analysis, but not before talking about autonomy. The Smart Band 7 Pro offers us a 265 mAh capacity battery that, according to Xiaomi, lasts up to 12 days. I do not doubt it, but the reality is that with all the sensors activated to the maximum, wearing the bracelet at all times and doing two weekly one-hour sports sessions, the autonomy has been less .
Specifically, during the time that we have been testing the bracelet, it has lasted an average of seven days . It is a more than decent autonomy and, really, the bracelet makes you forget about the charger. And speaking of the charger, although the mechanism is a bit… old-fashioned (a small base with pogo pins that only fit in one position), it works correctly. The device charges in about an hour, which is a very good figure if we take into account the final autonomy.
Xiaomi Smart Band 7 Pro, the opinion of Fadvices
Being clear and direct, there is little reason to go for the Smart Band 7 Over having the Smart Band 7 for less . It is true that with this model we gain a larger screen, automatic brightness, GPS and Alexa, but otherwise the experience is practically identical. The decision will end up marking whether we want a bracelet or a device more similar to a smartwatch.
Apple Watch SE (2nd Generation) Review: The Apple Watch For Those Who Haven't Owned An Apple Watch Yet | Tech Reviews
Is it a bad device? Absolutely. It is a Xiaomi wearable, which in itself is a guarantee. Its behavior is good and more than enough for a basic user , so if we are looking for a 100-euro wearable, it is an option to consider. The thing is that we will not lose too much if we opt for the Smart Band 7.
Bottom line: do you need or value GPS and Alexa? Go ahead with the Smart Band 7 Pro. Are you looking for a wearable that simply notifies you of notifications, analyzes your sleep and controls your amateur sports sessions? The Smart Band 7 is the way to go.